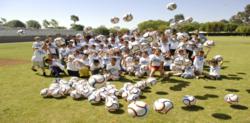 "We need to create a positive environment where children are protected, encouraged and given hope," says Founder Tony Everett.
Santa Ana, Calif., (PRWEB) March 22, 2012
Pure Game launches throughout Orange County, a mentoring charity using Soccer and team spirit to reinforce positive behavior.
Pure Game aims to mentor and guide vulnerable children by adding positive influences through a team spirit approach. Founder of Pure Game Tony Everett says, "Pure Game is a unique teaching platform that infuses an untraditional style of soccer with a character curriculum builder for youth.
Character education is the key to developing the minds of young-children, as they are the leaders and parents of the future. Pure Game uses the game of soccer to create a team environment that teaches young minds the meaning of confidence, trust, success and failure through the use of soccer.
"Beyond the game of soccer mentoring and team building is key to a well rounded personality. We teach children how to accept failure to improve on their confidence and generally give them support and role models through a Pure Game. I have set big goals for myself and I hope that within 10 years 1 million children around the world will be playing Pure Game. We need to create a positive environment where children are protected, encouraged and given hope," says Founder Tony Everett.
Using soccer to change the lives of vulnerable youths by creating team spirit. Shaping a positive environment where the youth of today are protected, sadly not all home environments are a safe haven. Preparing them for life with character-strengthening tools. Inspiring creativity. Reassuring them their lives can be full, satisfying and productive. Imparting spiritual truths. Teaching children essential skills and developing trust that builds confidence and self- esteem.
Pure Game has partnered with several local schools in including Lawrence Elementary, Carver Elementary and Walter Elementary in Garden Grove. The aim is to partner with educational facilities throughout the county with plans for expansion statewide. The program has been set up to help children living in a home with no role model, children in foster care and families from inner city areas.
Pure Game will be working closely with Santa Ana- based Kidworks to help children in need. Santa Ana was recently named the nations toughest place to survive. Kid Works offers children a chance to pursue their dreams and survive.
"When I first heard about this I thought it was a great idea for two reasons, firstly the demographic that we support here at Kidworks love soccer as do their families. We also realized that we had no sports programs at Kidworks and therefore Pure Game was the perfect collaborative partner. In Santa Ana soccer is a very popular and competitive sport and therefore it is difficult to find playing surfaces that are available as there are so many leagues. The great advantage with Pure Game is it can be played anywhere, in fact we played for over a year on our parking lot," admits Kidworks COO Brian Hendricks.
Kidworks aims to rescue at risk families and communities. They seek to provide a "cradle-to-career" continuum of support for children in Santa Ana, as we recognize that at any time they are in danger of succumbing to the temptations and dangers of their neighborhood.
If you would like more information about Pure Game you can visit the website at http://www.thepuregame.org or contact tony(at)puregame(dot)org. For further information for Kid Works give us a call at 714.834.9400 or Shoot us an email at .info(at)kidworksonline(dot)org.