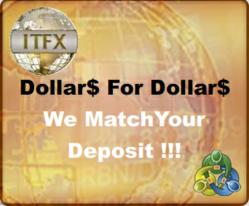 Hong Kong (PRWEB) March 27, 2012
InvestTechFX is a registered software solutions provider in Canada and Hong Kong that enables forex trading, but not a dealing desk. Since the major changes in the infrastructure management at InvestTechFX, the CEO reports the over the counter foreign exchange(Forex) market has gained tremendous popularity in the past four years such as automated trading has been very popular in the Online Forex market namely, the Metatrader (MT4) platform.
The MT4 platform allows individuals to run automated trading strategies, better known as Expert Advisors, which ours has been upgraded to assist the client in many respects, the CEO reported today. In order for the client to maximize their potential profitability, low PIPs and EAs that are above par are advantageous in many respects. ITFX's CEO also confirms that its structured software suits those needs more succinctly in today's turbulent markets.
Seeking a broker can be a daunting task that will have all of these options under one roof is a challenge in itself, especially when no other brokerages out there will have these types of options or can afford to. Dealing desk brokers have been known to make it extremely difficult for traders to be profitable in the Forex market, which is due to the fact that many dealing desk brokers trade against the clients and in order for a dealing desk broker to make money the client must lose. It's an ugly reality, but still a reality. However, on the flip side, by using a direct market access, ITFX uses this ECN model, which this conflict of interest is eliminated.
Finding a good broker that will have tight spreads, fast execution, low latency, and no re-quotes is difficult, until now. The CEO also reports that InvestTechFX is a firm in foreign exchange market offering products and services that no other broker in the online Forex market has been able to offer such as the new Power Matrix Account that enables the client to double their profitability i.e. ITFX will match their deposits on every deposit that is made by the client indefinitely. This is one aspect of the account that is primarily attractive to the novice trader.
Notwithstanding the market fluctuations, InvestTechFX's spreads has not changed and will not change. It is always fixed at 0.5 PIP on the forex ECN major six currencies, guaranteed. Most traders are looking for an MT4 broker with the best spreads available and one which provides excellent PIP options for the most utilized pairings. As a No Dealing Desk (NDD) their relationship with a separated clearing house for actual online forex transactions allows traders to access the lowest of spreads and most flexible of account groups.
InvestTechFX gives traders the ability to hedge, scalp, and use any type of automated or manual trading strategy. There are no restrictions on how close stop losses or take profits can be placed to market. This provides an ideal setup for Expert Advisors and traders who scalp the markets. InvestTechFX offers low account opening minimum with multiple funding options such as Credit/Debit Cards, Moneybookers, Liberty Reserve, Alert Pay, Union Pay, Wire Transfers and more!
With EURO/USD, GBP/USD, JPY/USD (to name a few), gold, oil and silver, mini/standard lot trading, 1:100 to 1:500 leverage, zero commissions, excellent customer service, fast account opening, and funding procedures that has allowed many clients around the world ease of deposits and withdrawals.