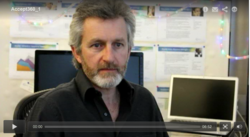 "It is a requirements chaos environment, and people have a hard time embracing it and being able to combine the different sources of data and make rational decisions about it."
– Alex Lobba, Accept Software
Santa Clara, CA (PRWEB) March 22, 2012
Accept Software has released a short video discussing how companies are tackling requirements chaos and how their different approaches to requirements management can affect a products' market outcome.
Alex Lobba, a product manager at Accept Software discusses many companies challenge of having to gather and prioritize varied product information. He explains how that process often makes for "requirements chaos" and "spreadsheet hell" and can delay the important and rational decision making required to get a successful product to market.
"It is a requirements chaos environment, and people have a hard time embracing it and being able to combine the different sources of data and make rational decisions about it."
– Alex Lobba, Accept Software
The Accept Software Requirements Video covers:
1. The challenge product teams are up against,
2. Different requirements management approaches, and
3. What companies must consider to optimize product outcomes.
About: When companies outstrip their "business-as-usual" product planning tools and in-house solutions Accept Software's product planning empowers global enterprises to accommodate constant change, coordinate teams and manage product scope, no matter how large or complex, from concept to delivery.
Accept Software's collaborative approach gives companies, with complex product planning challenges, a modern solution for aligning their products to the best market opportunities. For more information, visit http://www.accept360.com or call us at +1.866.423.8376.