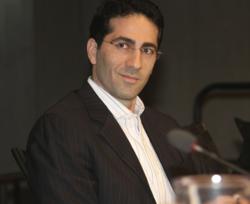 Dr. Orujyan's appointment as co-Chairman of GAID is an excellent contribution to the strength of the Alliance.
Los Angeles, CA (PRWEB) March 22, 2012
An initiative approved by the Secretary-General in 2006, GAID was launched after comprehensive worldwide consultations with governments, the private sector, civil society, the technical and Internet communities, and academia. Stemming from a need for a truly global forum, the Alliance's objectives include facilitating the identification of technological solutions for specific development goals and developing pertinent partnerships, along with acting as a "think-tank" on Information and Communication Technology (ICT) related issues and as an advisory group to the Secretary-General.
Joining Dr. Orujyan in the GAID chairmanship is former Swiss UN Ambassador, Dr. Daniel Stauffacher. With this latest appointment, Cheick Sidi Diarra, UN Under-Secretary-General stated "I add my voice in congratulating Ambassador Stauffacher and Dr. Orujyan on their new appointment. I have no doubt that each of the appointees brings much-needed expertise and a unique perspective to the Board, which will serve to deepen and enrich the ambitious work of GAID. I look forward to working with each of these honourable gentlemen in the near future as we do our part to ensure that information technology is effectively deployed to deliver a sustainable future for all of us."
For over a decade, Dr. Orujyan has been developing and providing entrepreneurial platforms for young people around the world and powering individuals by creating opportunities to self-organize and succeed with minimal resources and options. Under his leadership, Athgo has developed and is managing a strong network of over 100,000 young people from over 100 countries, built programs that have directly enriched over 4,000 students and young entrepreneurs, and has been awarded consultative statuses with the UN Economic and Social Council and the UN Department of Public Information.
Minister of Information Society for the Republic of Macedonia, Mr. Ivo Ivanovski, added "Dr. Orujyan's appointment as co-Chairman of GAID is an excellent contribution to the strength of the Alliance. His consummate work as an advocate for leadership and entrepreneurship in ICT and development will further GAID's ability to successfully achieve its crucial objectives. The Macedonian government looks forward to working with Dr. Orujyan and GAID with great enthusiasm, and I congratulate him on this deserving appointment."
Dr. Orujyan has been serving as a high-level advisor to the GAID since 2006. He also serves on the Board of the UN's venerated Broadband Commission. Armen earned his Bachelor of Arts degree with Honors in Political Science from UCLA and received his Master of Arts degree as well as PhD from School of Politics and Economics at Claremont Graduate University.
For more information on GAID and its leadership, please visit http://un-gaid.org