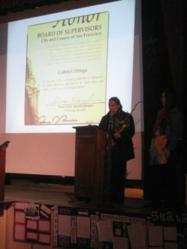 Mrs. Cottrell continued, "Students have talked about doing more than just the few hours we require. They want to do more. They have been educating their peers on what they have learned."
San Francisco, CA (PRWEB) March 22, 2012
On March 16th, high school juniors from Immaculate Conception Academy, an all-girls college preparatory school in the Mission District of San Francisco, hosted an exhibition featuring the stories of underrepresented members of society.
This exhibition was the culmination of an oral history project and part of a 15-hour service-learning requirement led by teachers Eileen O'Kane and Leticia Cottrell. The event had approximately 150 guests including Gabriel Ortega, member of the San Francisco AIDS Foundation, who was recognized at the event for his efforts in HIV/AIDS education and awareness.
This was Immaculate Conception Academy's second year participating in this particular service-learning project, done in partnership with Voice of Witness and Facing History and Ourselves. Students worked in groups of two and were assigned to transcribe two hours of interviews with a person on the margins of our society.
Interviewees included victims of drug abuse, residents of socio-economically challenged neighborhoods, undocumented immigrants, individuals with HIV/AIDS, and parents of children with disabilities. Students at the event displayed storyboards about their project and made copies of the interviews available to guests.
Cecilia Rivera and Delilah Useda interviewed a woman from Westside Community Services who has been unemployed for four years. Cecilia commented, "Her story impacted me because she helped me understand her struggles. Even though she faced challenges, she came out with a positive story. That gave me hope." According to Delilah, "You never know what people have gone through until you talk to them." She learned that "it's never too late for positive change. There are lots of opportunities around us."
Explaining the value of the project, Mrs. Cottrell stated, "We do this project for two reasons: we have a strong belief in interdisciplinary studies. The religion and history departments worked together on this. We combined class work and service learning to complete it. Secondly, the project helps bring Catholic principles to life." Mrs. Cottrell continued, "Students have talked about doing more than just the few hours we require. They want to do more. They have been educating their peers on what they have learned."
For more information about this story please contact Katie Mayberry, Marketing and Events Specialist, at (415) 824-2052 x40.
About ICA
Immaculate Conception Academy, a Catholic college preparatory school, educates young women for a life of faith, integrity and service. As a Cristo Rey school in the Dominican tradition, they are committed to providing both excellent education and meaningful corporate work study experiences to students of limited financial resources. Learn more about ICA at http://www.icacademy.org. Learn more about Cristo Rey at http://www.cristoreynetwork.org.
###