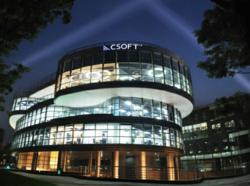 At Documation, we will show users how DITA allows companies to deploy products in international markets faster and with better quality.
Paris, France (PRWEB) March 22, 2012
CSOFT International, Ltd., a leading provider of multilingual globalization services and language technology, announced today it will exhibit at Documation 2012 in Paris, France. CSOFT will partner with Componize, a company that offers DITA-based content management services, to demonstrate the benefits of using DITA in localization. The partnership will also leverage the companies' combined ability to deliver highly efficient end-to-end quality translation and publication solutions.
"Documation is a fantastic opportunity for CSOFT to showcase our cost-effective and time-saving solutions, from content translation and management strategies to cloud-based tools for authoring and publishing multilingual content," said Philippe Cao, Business Development Manager at CSOFT, who will be at the show. "We understand the importance of brand and messaging consistency for global companies and are excited for this opportunity to help companies achieve this across languages and markets."
Documation is considered a leading international trade exhibition and conference on business related documents and content management. Last year, the show drew over 6,000 attendees, including manufacturers and suppliers of technological solutions for document and information management, providers and integrators of content-related services, and software publishing and computing companies.
"One of the best ways to save costs and improve efficiencies is through the use of DITA," said Carl Yao, Executive Vice President for Global Solutions at CSOFT. "At Documation, we will show users how DITA offers a more reliable use of translation memory through the reuse of previously approved translated topics and content chunks, resulting in better consistency and faster project turnaround. As a result, DITA allows companies to deploy products in international markets faster and with better quality."
CSOFT will be at booth F22. For more information, please go to http://csoftintl.com. All media inquiries should be directed to Melissa Taing, CSOFT's director of marketing who will also be at the show and can be reached at melissa.taing(at)csoftintl(dot)com.
About CSOFT
CSOFT International Ltd., is the world's leading provider of multilingual localization, testing and language technology solutions. Recognized as one of the Top 5 Language Service Providers worldwide, CSOFT delivers quality-driven localization and language solutions with fanatical customer service, ISO-certified processes, and an award-winning multinational leadership team.
About Componize
Componize is DITA CMS software that optimizes the collaborative production, management and publishing of high-volume, business-critical documents. Componize allows large organizations to easily transition from time-consuming and error-prone document management to the latest in DITA CMS solutions. Today, Componize is the trusted DITA CMS for AMD, Kaplan, NXP and SAP, among others.