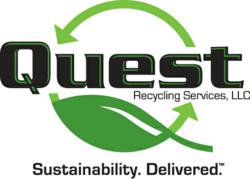 Zero waste leader
Frisco, Texas (PRWEB) March 22, 2012
Quest Recycling Services, LLC is partnering with the Texas Legends and the City of Frisco Environmental Services to encourage everyone to minimize their trash and maximize their recycling.
On Sunday, April 1 at 3:00 pm, the Texas Legends face off against the Iowa Energy at Dr Pepper Center. Attendees are invited to bring old cell phones, ink cartridges, and batteries to drop off for recycling.
Texas Legends' mascot Dunker and Frisco Environmental Services mascot Rufus will entertain families. Also debuting will be Zero, Quest Recycling's robot mascot that encourages kids to reduce, reuse and recycle.
In addition to the activities and events during the game, Quest Recycling will off-set all waste and carbon emitted during the game. Trees will be planted on April 22 in honor of Earth Day, as part of the green off-set effort.
The first 75 people to stop by Quest Recycling on Main Street will receive a free game ticket and event t-shirt. The office is located at 6175 Main Street , Suite 420 in Frisco Square. Quest's office is open from 8am – 5pm Monday through Friday.
For more information, visit http://www.zerowastenight.com or http://www.facebook.com/questrecycling.