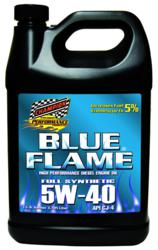 Champion Blue Flame® Diesel Motor Oil Invited to Attend 2012 SAE Commercial Congress
Clinton, MO (PRWEB) March 23, 2012
PC-11 (PC stands for proposed category) offers performance features beyond the current API CJ-4 diesel engine oils and is slated for market entry with API approval no later than January 1, 2016. The need for PC-11 is driven by EPA/NHSTA proposed regulations on fuel efficiency and green house gas emissions, increased use of bio-diesel fuel, engine oil foaming concerns, improved protection from higher engine operating temperatures, improved protection from engine oil shear down, and piston/liner wear protection.
The EMA proposal for PC-11 adds performance parameters to address such as: fuel efficiency contribution from the engine oil, bio-diesel fuel compatibility/protection, improved engine protection from aeration, improved oxidation performance, engine oil shear stability protection, and improved scuffing wear protection.
Over the next five years, Champion Oil and engine manufacturers, oil marketers and additive companies will all work together to develop the PC-11 performance category, document improved performance features and ready these new oils for the market place.
Champion Blue Flame® Motor Oils are formulated with workhorse performance additives, superior protection, advanced polymer technology, and high TBN, supported by a carrier blend of synthetic and conventional base fluids. In addition, Champion Blue Flame® Diesel Motor Oils deliver unmatched high temperature film strength and lubricity protection, has the muscle to combat oil shear, maximizes and sustains cylinder compression, and are proven to increase engine horse power and torque. Champion Blue Flame® Diesel Motor Oils are purpose built for extreme protection and performance.
The Society of Automotive Engineers (SAE) is a global association of more than 128,000 engineers and related technical experts in the aerospace, automotive and commercial-vehicle industries. SAE's core competencies are consensus standards and development. Today, SAE creates and manages more aerospace and ground vehicle standards than any other entity in the world. SAE serves its primary constituents in many ways - through its technical presentations, congresses, expositions, white papers, and their globally recognized magazines; Automotive Engineering International, Aerospace Engineering, and Off Highway Engineering. http://www.sae.org
The SAE Commercial Vehicle Engineering Congress (ComVec) is the source for information and resources to aid in the development of these innovations. ComVec brings together a global assembly of both on- and off-road professionals, providing solid, profitable interaction with engineers, supply managers and executives. October 2-3, 2012, Donald E. Stephens Convention Center, Rosemont, Illinois, USA. http://www.sae.org/events/cve/
About the company: Champion Brands, LLC, is a globally recognized industry leader in specialty lubricants for over 55 years. Champion also produces and blends over 300 products including fuel, oil, engine additives, and lubricants for the automotive, heavy truck, agricultural, industrial, and specialty markets. For more information about Champion Blue Flame® Diesel Engine Oil contact your nearest Champion distributor, or call Champion at 800-821-5693 or 660-885-8151. Champion Brands, LLC; 1001 Golden Drive, Clinton, MO, or go to http://ChampionsUseChampion.com.