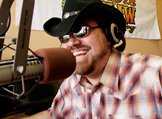 When I came to KBAQ I was already a fan of the legends like Hank and Cash and Willie and I'm always on the hunt for any new acts that can echo that aesthetic,"
Santa Fe, NM (PRWEB) March 22, 2012
New Music Weekly has announced its New Music Award Winners for 2012. Santa Fe, New Mexico family owned business Hutton Broadcasting is happy to let everyone know that Chris Diestler, the Program Director for the company's country radio station KQBA was named New Music Weekly's Country Program Director of the Year. Each year, New Music Weekly honors music artists, both major and independent, record labels, radio stations, programmers and industry professionals. The winners from each category will be featured in New Music Weekly's next "Winners and Post CRS" magazine issue, which is currently in pre-production. The company, in honor of its annual awards week, is offering special rates for their "Winners and Post CRS" magazine issue.
"I'm trying to not have it sound like every other country radio station on the dial. When I came to 107.5 Outlaw Country KBAQ I was already a fan of the legends like Hank and Cash and Willie and I'm always on the hunt for any new acts that can echo that aesthetic," says Chris Diestler. "If you want to hear only country music Top 40 then this isn't the station for that. We do play Top 40, but we try to mix in a lot of other styles. We mix it up. I'm carving out a unique identify for ours station. I want to sound distinct. When people see me wearing my Outlaw jacket, it's a badge of honor. I've been active to make it different but in a cool of way as possible."
Additionally, New Music Weekly is now putting together their highly anticipated Future Hits album, a music compilation of up and coming artists and bands. Not only will this special group of songs be available via CD, New Music Weekly is also offering it digitally to music industry professional through Airplay Access. Airplay Access offers a service that creates and stores fast secure broadcast quality digital files of promotional music for registered industry professionals, record labels, and bands artist/bands. Airplay Access is available to program directors, music directors, syndicate radio, and Internet radio. When music industry professionals download digital music via Airplay Access, it includes tracking software that records radio airplay using STS technology, which for New Music Weekly means they'll know how often the music from their Future Hits album has been played on the radio
About New Music Weekly:
New Music Weekly has graced the pages of Billboard, R&R, Gavin, Friday Morning Quarterback, Music Connection, Inside Connection and most recently Soap Digest has found great success with their charting system which includes Top40, Adult Contemporary, Country, College, Americana, and Rock radio stations. Most recently with the formation of Backstage Entertainment's newly developed Spins Tracking System (STS) it has already impacted thousands of radio stations since its induction. New Music Weekly has also been honored as "Magazine of the Year" award at the recent Los Angeles Music Awards. The weekly music trade magazine, which has fast become the top chart-breaking publication for new music and artists, scored top honors during the event held in Hollywood, California. The magazine, which is heading towards its sixth year of publication, boasts over 500 reporting radio stations in the genres of Top40, Adult Contemporary, Country, College, Jazz and Alternative/Rock.NMW has also found success with its Future Hits compilation CDs. This multi-format music sampler enables recording artists to get their music into the hands of radio station program directors that will support new artists regardless of label affiliation. In addition, New Music Weekly owns and operates the New Music Radio Network, which services its syndicated radio specials to hundreds of Country and Mainstream radio stations.
Contact Information:
LOS ANGELES
137 North Larchmont Avenue #500
Los Angeles, CA 90004
Phone: 1 310 325 9997
NASHVILLE (Music City U.S.A.)
5018 Franklin Pike
Nashville, TN 37220
Phone: 1 615 323 2200
Email: staff at newmusicweekly.com
About SantaFe.com/Hutton Broadcasting:
SantaFe.com provides Santa Fe and visitors to Santa Fe alike the most current interactive platform for events, music, arts, business, dining, and lifestyle. SantaFe.com is a division of Hutton Broadcasting, located at 2502 C. Camino Entrada, Santa Fe, NM 87507
Contact Information:
Scott Hutton
SantaFe.com / Hutton Broadcasting
http://www.santafe.com