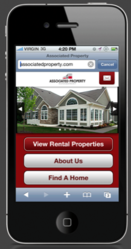 Santa Barbara, CA (PRWEB) March 22, 2012
AppFolio, Inc., providers of web-based property management software, announces the availability of an additional website option (AppFolio Websites Plus) designed for customers in the multifamily industry. With this new package, AppFolio continues to provide the simplest pricing model in the industry with targeted functionality that helps property managers run a more successful and profitable business.
AppFolio customers can now choose from two website packages, Core or Plus. AppFolio Websites Plus expands on the current website package (Core) to include mobile property sites, social media integration (Facebook & Twitter) a blog and more. AppFolio Websites are all 100% integrated with AppFolio's web-based property management software allowing customers to seamlessly accept rent online, post and update vacancies with a few clicks and accept online maintenance requests that automatically create work orders.
AppFolio Websites 'Plus' Package Key Features:

Affordable Pricing – Based on careful market analysis and customer feedback, pricing is affordable and simple: $1,000 one-time set-up fee; $50 / per month / per property website.
Professional and Modern Designs With Individual Community / Property Sites – Property Managers can select and personalize a variety of designs that are built with best practices for the property management industry. The Plus package includes one Corporate Website and unlimited websites to showcase individual properties or apartment communities. Floor plans, image galleries and a blog are included in each site.
Mobile Version – Today's renters expect quick and easy access from their mobile device. With the Plus package, each property website also includes a dedicated mobile site to display vacancies and contact information for anyone viewing the website from a mobile device.
Search Engine Friendly For the Property Management Industry – The websites are built to incorporate best practices that attract more clients with proven Search Engine friendly techniques. Packages include basic Search Engine Optimization (SEO) based on popular industry terms and geographic location to attract even more visitors to the property sites.
Easy, Managed Solution - It can be challenging and expensive to design and build a website from scratch. AppFolio simplifies this process by doing the majority of the work at an extremely affordable price.
AppFolio Websites are available now and sold in conjunction with AppFolio's web-based property management software allowing property managers to work more efficiently by combining the website, marketing, accounting and property management into a complete solution.
ABOUT APPFOLIO
Headquartered in Santa Barbara, AppFolio was started by a team of technology leaders with proven experience creating software that businesses love to use. AppFolio creates complete, easy-to-use, web-based solutions for multiple markets and the first AppFolio SaaS service (AppFolio Property Manager) was specifically created for residential property managers. AppFolio also provides RentApp the first free, online rental application solution. With original investors including Cisco Systems, BV Capital and the Investment Group of Santa Barbara, AppFolio's rapid growth is being fueled by very happy and loyal customers. For more information, please visit http://www.AppFolio.com.