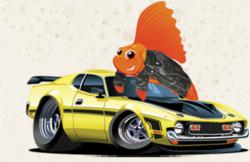 She's the kind of person you can just tell won't let stardom and fame get to her head, and will always be true to herself.
New York, NY (PRWEB) March 22, 2012
RoadFish.com men's lifestyle and finance magazine commended "The Hunger Games" actress Jennifer Lawrence for her modesty in the face of overwhelming paparazzi and stardom, as Lawrence displayed an unpretentious, unassuming demeanor during her interview on the Late Night Show with David Letterman. "The Hunger Games" has surpassed "Twilight" in ticket pre-sales, rocketing Jennifer to certain fame and a household name.
Letterman and Lawrence discussed fans' reactions when they get to meet her, to which Jennifer said that most either scream, cry and/or faint. Nicole Eggenberger of OK Magazine reported that when David Letterman asked Lawrence if it was possible for her to watch the film and "see what they see on the screen," Lawrence replied, "No! I am a troll. I hate myself."
The "Letterman" interview isn't the first time Lawrence has shown her down-to-earth, modest personality. The Internet Movie Data Base has compiled quotes by Lawrence taken from auditions and meetings, such as "I don't really diet or anything. I'm miserable when I'm dieting and I like the way I look. I'm really sick of all these actresses looking like birds... I'd rather look a little chubby on camera and look like a person in real life than look great on screen and look like a scarecrow in real life." Lawrence is also quoted on IMDb as saying, "I'm doing what I love, and then I get months and months of rest. I have a lot of money for a 21-year-old. I can't stand it when actors complain."
RoadFish.com's Senior staff writer is quoted as saying, "I thought Jennifer was a good actress before, but after seeing her personality in interviews, she's entered 'dream girl' status in my book. Talented but modest, funny but humble, and a little goofy. She's the kind of person you can just tell won't let stardom and fame get to her head, and will always be true to herself. I really admire a person like that."
Jennifer Lawrence was born and raised in Louisville, Kentucky and graduated from high school two years early to pursue an acting career. She got her start on TV in 2007 on "The Bill Engvall Show" as eldest daughter, Lauren Pearson. Lawrence has since acted in Sundance Grand Jury Prize winner films "Winter's Bone" and "Like Crazy." She been awarded other such honors as one of People magazine's 'Most Beautiful People in the World 2011,' one of Variety magazine's 'Top Ten Actors to Watch 2010,' and voted number 10 in Maxim's "Hot 100 Women" list in 2011.
RoadFish.com describes Lawrence as "the perfect woman," offering its readers a dating tip of "taking a page out of Jennifer's book when looking for a woman: someone who is talented but down-to-earth, who follows her heart and remains true to herself."
21-year-old Lawrence portrays the 16-year-old character of Katniss Everdeen in the film "The Hunger Games," due to hit theaters on March 23.
About RoadFish.com
RoadFish.com is an online men's lifestyle and finance magazine targeted toward men in their 30's and 40's that have already attained a moderate level of success in life, and are striving toward more. It goes over current events of interest to this group, such things as exciting adventures, making money, consumer interests, popular film, and dating tips, as well as ways to make more and save more money. It is a publication owned by Purpose Inc.
###