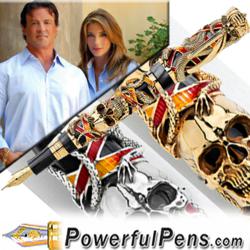 Montegrappa Fountain Pens Releases Limited Edition Stallone CHAOS
New York, NY (PRWEB) March 21, 2012
Montegrappa Pens recently released a limited edition pen co-designed by Sylvester Stallone called the Chaos. PowerfulPens.com, an online industry leader among pen collectors, says this pen exhibits elegance and the essence of Montegrappa's history and prestige. The Chaos Limited Edition honors the style and panache of the action-packed Sylvester Stallone while possessing the balance of elegance and function of a luxury fountain pen. 1000 of the pens will be made of silver and start at $4,965 with 10 fountain and 10 roller pens being crafted of 18 karat gold with precious stones.
According to William Margita, one of Americas leading advisers to pen collectors, says that this pen has 3 foundational assertions that make this a great fountain pen for collectors. First, Montegrappe pens represent the true spirit in Italian fountain pens and are manufactured in the same factory since 1912. Next, it will have a current and ongoing relational to an American icon and pen aficionado, Sylvester Stallone, who is recognized globally. Finally, the pen is being produced using precious metals and stones making it one of the best fountain pens for collectors.
Margita notes that custom pens made from gold, silver and precious metals have retained their value or increased even during the recession. As currencies around the globe fluctuate due to interconnected and dependent financial markets, gold and silver have emerged as a financial leader in hedging against the unforeseen markets and economies. As the price of gold and silver rises, so does the demand by individuals, businesses, and companies looking to diversify their investments and collections.
According to PowerfulPens.com, collectors of fountain pens have become more discerning over the years and are doing more research before choosing the next pen for their collection. Sylvester Stallone shares in the appreciation for the Italian values of quality and craftsmanship as the collaboration between the two came together to create a awe-inspiring addition to the collections of the most avid luxury fountain pen company. PowerfulPens.com is a unique online destination as it only offers only 100 pens, handpicked by the staff to simplify the process for serious pen collectors and can be contacted at 1-888-960-6665or see current selection at http://www.PowerfulPens.com