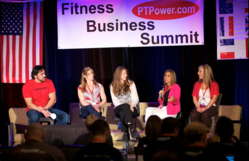 Personal trainers are typically the unsung heroes who are only recognized by their clients
Chino Hills, California (PRWEB) March 22, 2012
Bedros Keuilian, the man behind the fitness marketing resource site PTPower.com, has just announced the winners of the first Personal Trainer of the Year Award. This distinction has been created by PTPower to recognize the best fitness trainers in the business, and a new winner will be announced every year.
"I'm delighted to announce that the first award has gone to twin UK fitness trainers Stephen and Mark Gray from Bedford in the UK," says Bedros Keuilian, owner and creator of PTPower.com. "They have delivered outstanding results and helped many different people gain personal fitness and satisfaction, and it is for these reasons that they have won the inaugural award for the Personal Trainer of the Year Distinction."
Each year the award will be given to fitness trainers who deliver excellence in the service they provide and the results gained through that service. They must also demonstrate they have had a meaningful impact in their community. Stephen and Mark Gray have done this by creating DoubleVision Conditioning, which is designed to help clients boost their metabolic rate, lose weight and rebuild their confidence in life. This is done through a mix of cardio training, resistance training, nutrition coaching and life coaching. It is this combined approach that has called them to the attention of Bedros Keuilian with this award.
"Personal trainers are typically the unsung heroes who are only recognized by their clients," added Bedros Keuilian. "However a new breed of fitness trainers has emerged. This new breed is focused on delivering value, services and results, not only to their clients but also to their community. They are the ones we recognize."
The award is the latest in a string of developments from PTPower.com. Bedros Keuilian is well known for providing support and outstanding service to those in the fitness business. He has done this through Boot Camp Marketing and also by providing a range of fitness business systems to help fitness trainers grow a worthwhile and rewarding business.
The Personal Trainer of the Year Award has been created by Bedros Keuilian and his company PTPower.com. It has been designed to give recognition to the best personal trainers worldwide. PTPower.com was created by Bedros Keuilian to provide support and strategies that fitness professionals can use in their lives and work. More information about PTPower and the fitness marketing tools that Bedros Keuilian has made available can be found by visiting http://ptpower.com. More information about fitness marketing can be located at http://ptpower.com/fitness-marketing/.
# # #
To find out more about Bedros Keuilian, his company PTPower and the Personal Trainer of the Year Award, contact Bedros Keuilian at (800) 261-0208. Alternatively use the contact form at http://ptpower.com/contact-me/ or send an email to Bedros at support(at)keuilian(dot)com.