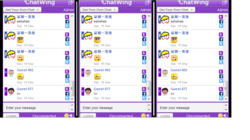 San Francisco, CA (PRWEB) March 22, 2012
Everyday, many bloggers are registering from many parts of the world. This clearly proves that blogging is an important part of communication. However, new bloggers may realize that building online visibility is quite a challenge today. Luckily, a chat widget known as Chatwing is ready to even out the playing field for these bloggers.
Chatwing is similar to other widgets that can be found online. However, it is evident that Chatwing is more simple and powerful when it comes to real-time communication. Chatwing is so simple that registration and installation would only take few minutes, maybe less. Bloggers who used Chatwing noticed that the widget will go live in under one minute after installation.
A shoutbox is really important for a blog to prosper. It serves as the visitors' way of voicing out their concerns, opinions and suggestions. The comment box is viable, but a shoutbox is faster and has more potential in terms of communicating. Chatwing has improved the shoutbox niche the moment of its release. Through Chatwing, visitors can now use cute avatar displays and cool emoticons.
Embedding Chatwing is really easy. First, the user must register the domain name of his blog or website. After that, he can now proceed to widget customization. He can adjust the height and width of the chat box. Adding to that, he can also pick the color that suits the theme of his blog. Renaming the widget is also an advisable option. Once customization is complete, the blogger can now retrieve the HTML code and embed it to his blog.
Blogger and Wordpress are among the best free-hosting blogs that accept widget installation easily. According to a Chatwing collective study, bloggers who used the free chat box for their blogs made a couple of friends in less than a week. Most of these bloggers came from Wordpress—which is known for its high ranking in the World Wide Web.
New users are encouraged to use Chatwing because of the visibility spike that it can offer. To know more information, users can visit Chatwing.com. More updates and developments will come in few months.
About Chatwing.com
Chatwing.com has developed live chat software for websites and blogs. The Chatwing.com website offers users the ability to signup and create a customizable live chat feature in 1 minute or less. Users have the ability to customize the size, color, and fonts of the chat product. The ability to chat via social media accounts such as Facebook and Twitter enable Chatwing to offer a personal and unique real-time experience to all sites. Chatwing is 100% free web software.