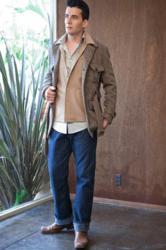 K&S appeals to a man who has achieved a certain amount of success, yet retains a distinct style identity that is couched in impeccable taste and just the right amount of humor," says Nearburg
Hollywood, CA (PRWEB) March 22, 2012
Krammer & Stoudt, a luxury men's clothing line, announces the launch of its first collection for Fall/Winter 2012, available for purchase on March 24, 2012.
Designer Michael Rubin draws inspiration from the glamorous heritage of Hollywood. His goal is to inspire a new generation to embrace exquisite tailoring and refined style.
"The company seeks to encourage men to rediscover the comfort and satisfaction of well-constructed, luxurious apparel," said Krammer & Stoudt's Managing Director Courtenay Nearburg.
Krammer & Stoudt is a hybrid of east coast prep and old Hollywood polish. AW12 offers 10 distinct pieces showcasing an intriguing pleated trouser silhouette, complimented by sleek sportcoats and overcoats.
"K&S appeals to a man who has achieved a certain amount of success, yet retains a distinct style identity that is couched in impeccable taste and just the right amount of humor," says Nearburg.
The clothes are manufactured wholly in the state of California, with the finest of imported Italian fabrics from Corti Marcello and Ithitex mills. All the outerwear has been hand-sewn by a local tailor with 40 years of luxury made-to-measure experience.
K&S' AW12 Lookbook is available at http://www.krammer-stoudt.com. Qualified boutiques and showrooms may request an appointment for a personal showing.
About Krammer & Stoudt Designer Michael Rubin
Michael Rubin comes to men's apparel via a fine art background. Educated at both San Francisco Art Institute and CalArts, Mike pursued a career as a scenic painter before shifting his focus to fashion. Growing up in Huntington Beach, CA, in the epicenter of the surf and skate youthquake of the '70s, Mike refined a sense of personal style that extended far beyond t-shirts and boardshorts. His design reflects a sophisticated global aesthetic and an appreciation for form and structure.