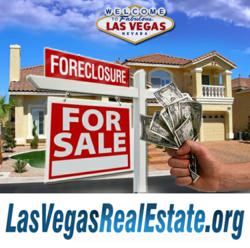 Las Vegas Foreclosures for Sale Dominate Interest of All-Cash Buyers and Investors
Las Vegas, NV (PRWEB) March 21, 2012
Las Vegas foreclosures for sale accounted for over 50% of all residential sales during 2011 while the national average was half that at 23.7%. LasVegasRealEstate.org reports the average sales prices of the 12,000+ Las Vegas foreclosures sold was $116K, a 22% discount from the average sales price of non-foreclosures. Investors seeking higher yields are drawn to foreclosures because the rental market is red hot. Trulia research has Las Vegas ranked as the #1 city in America for price-to-rent ration with possibly the best return on investment.
Ashley McCormick of Realty One, Nevada's number one Las Vegas real estate company, says the majority of your return on buying foreclosures in Las Vegas comes in the form of cash flow from renting, not capital appreciation, unless you buy properties at a huge discount. McCormick is advocating individual investors to take advantage of the current opportunity as the U.S. government is moving ahead with a trial project to sell big pools of single-family homes that Fannie Mae currently owns which may leave the small investor unable to participate.
On the Internet, the gold rush mentality has taken hold with foreclosed homes Las Vegas listings being purchased site un-seen. 90% of the world's millionaires made their money through smart real estate investing and cash-flow rentals. With online property search, pictures and virtual home tours, more foreign investors familiar with the area are shopping online and having their agents write multiple-offers. Sites like LasVegasRealEstate.org allow potential investors or home buyers to set parameters and sends alerts once a new listing comes up that matches their criteria. It is common practice today for the entire process from loan documents, appraisals, and home inspection reports to be sent by email.
With Las Vegas homes between $85K to $125K taking multiple offers by all-cash buyers and investors, McCormick advises potential buyers to be prepared to act fast. She insists interested parties have "proof of funds", a letter of where the money is coming from, or a per-qualification letter for financing in place before submitting an offer. Also, she reiterates that when buying un-seen to make the offer contingent upon a home-inspection. McCormick has been in the industry for over 15+ years and can be reach at 1-888-920-2292. Las Vegas foreclosures for sale with PICS, pricing and information can be search online at http://www.LasVegasRealEstate.org
"Nowhere are potential profits better than in Las Vegas" - CNNMoney