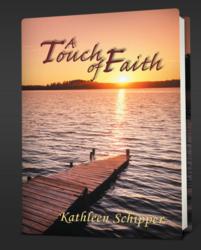 Appleton, WI (PRWEB) March 23, 2012
Kathleen Schipper explains the origin of her new novel, "A Touch of Faith: The Angel's Advocate Group: Book One" (published by Abbott Press), as a spur of the moment event. "I stared at the blank screen of my laptop, and began to type, while thinking of the conversation I had with my children about our dreams, angels and spirits, and good vs evil," she explains. "They were the ones to suggest that I turn it into a story." While not quite the same as Jack Kerouac's story of writing "On the Road" on his typewriter on one long roll of taped together pages in the span of just three weeks, Schipper's story came together quickly and fluidly, evolving from a story shared with her children to her newly published book.
"A Touch of Faith" tells the story of Mary O'Connor. Mary is only going through the motions of her life until her dreams prove to be reality, and she can no longer ignore her psychic gift. She discovers that she is not alone when she is recruited by Saint Anthony's College and the people around her seem to be nudging her along a path that she isn't sure she is ready for.
An evil plague is spreading and threatening to consume Mary and her friends. Their fate is in her hands, but she must also save herself. To confront the demon closing in on her, Mary must face her own personal demons. Will her "touch of faith" be enough to save the man she loves, or is his tortured soul primed for the taking?
Schipper wants readers to know that her story of "good versus evil" is as fun, accessible and exciting as it is poignant. "Even though it is fast-paced, it has some deep, meaningful moments that manage to deliver some inspirational and moral messages," she says.
About the Author
Kathleen Schipper is a dedicated wife and mother, residing in Appleton, Wisconsin, with her loving family. In addition to writing, she enjoys skiing, boating, watching movies and painting. As author of "The Angel's Advocate Group," she hopes to keep her readers entertained with this compelling new series.
Abbott Press, a division Writer's Digest—the oldest and most respected publisher devoted to the education and advancement of writers—is an indie-publishing imprint dedicated to helping writers bring their literary vision to print. Author Solutions, Inc., a leader in indie book publishing, will fulfill publishing, sales, and marketing services for Abbott Press. For more information, or to begin publishing a book today, log on to abbottpress.com or call 866-697-5310.
###