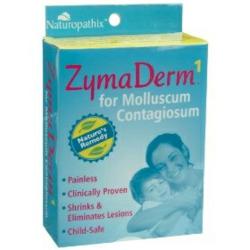 This is the second published study providing scientific proof of the effectivenss of Zymaderm™ against molluscum and we are thrilled
Boie, Idaho (PRWEB) March 24, 2012
Naturopathix, Inc. has announced publication of scientific evidence that the ingredients in all natural Zymaderm™ are effective and safe in the treatment of molluscum contagiosum in children. "This is the second published study showing effectivenss of Zymaderm™ against molluscum and we are thrilled" said Briant Burke,MD, MS the CEO of Naturopathix,Inc. The study appeared in the prestigious Journal of Drugs in Dermatology in the March issue. The results were from a randomized, placebo controlled blinded study which is the gold standard in science, and provides evidence of the highest quality. The first study was also a randomized placebo controlled trial and was published in 2004. Both studies were conducted by the independent Center for Biomedical Research,Inc. and taken together, provide clear and convincing evidence of the effectiveness of Zymaderm's™ ingredients in providing a painless natural alternative treatment for this common childhood condition.
The only full strength topical homeopathic for molluscum contagiosum, Zymaderm™ is a patented blend of powerful all natural plant-based compounds. It is widely recognized for transforming the treatment of molluscum from costly and painful procedures to making the unsightly and contagious molluscum warts simply vanish quickly, painlessly and inexpensively.
"Since ZymaDerm's introduction in 2003," says Briant Burke,MD,MS Naturopathix's CEO and developer of Zymaderm™,"tens of thousands of children and adults have easily gotten rid of visible molluscum warts lesions simply by dabbing on a pleasant aromatic blend twice a day, usually for less than a month."
"In addition to over-the-counter sales in leading drugstores," continued Dr. Burke, "we are especially gratified that many leading dermatology clinics and pediatricians around the country are replacing invasive treatments with gentle, effective ZymaDerm™ for their patients with molluscum. To encourage even more physicians to use Zymaderm™, Naturopathix, will continue to offer free samples to physicians and clinics upon request."
About Molluscum Contagiosum
Molluscum Contagiosum is caused by the MCV virus and is very contagious. The virus is spread by direct skin-to-skin contact. The discrete warty lesions that develop can persist for many months, even up to 5 years. Most traditional treatments for the molluscum rash in the doctor's office are painful, causing distress to the patient, especially if it is a child and parent alike.
ZymaDerm™ represents a breakthrough in the treatment of this common childhood condition that affects almost 2.5 million children each year in the US. The condition is not dangerous but can become quite unsightly, with the lesions covering extensive areas of the body and also spreading to the face. This may cause embarrassment and self-consciousness in children at a time when acceptance from peers is paramount. It is also contagious and playmates can become infected.
About ZymaDerm™
ZymaDerm™, which is available without a prescription, is a patented painless, safe and effective treatment for Molluscum Contagiosum. Other Zymaderm™ topical treatments are available for common warts, cold sores, herpes, and shingles. The ingredients in ZymaDerm™ are officially included in the Homeopathic Pharmacopeia of the United States, which the FDA recognizes by law as authoritative. The potency and level of purity of the ingredients in ZymaDerm™ meet the most stringent standards of excellence. ZymaDerm™ is available in leading chain drugstores, such as Walgreen's, independent pharmacies, and online merchants such as drugstore.com and amazon.com.
About Naturopathix, Inc.
Naturopathix, Inc. develops safe, effective, inexpensive alternative treatments for common health conditions utilizing state-of-the-art knowledge combined with a low technology approach to reduce the high costs of medical care for patients. It is able to rapidly translate research findings into application to real life clinical treatments that have a very low risk for potential harm and a high level of effectiveness. 25 percent of all revenue generated from sales of ZymaDerm's™ products through Naturopathix, Inc. is directed back into research.