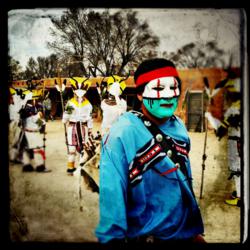 Zannah Noe is out to create a new version of Americana called American Bones.
San Francisco (PRWEB) March 27, 2012
The Road Trip
Zannah Noe's American Bones Road Trip; a multi-media project inspired by the concept of the WPA Artists of the Great Depression—is utilizing a twenty-first century alternative source of support to go off road with an artist's adventurous spirit to photograph, write and document her experiences. Upon her return she will create a body of paintings based on all of the material collected called American Bones. She is out to create a new version of Americana.
During these tough economic times for the creative class, Noe is using new tools that give options for funding and manufacturing for artists. With the intention and itinerary in mind, Noe turned to the crowd funding website, Kickstarter.com as base of support for The American Bones Road Trip. Her friends and supporters have met her Kickstarter funding goals with time to raise even more money until April 9th. Continued support will allow the project to expand into a deeper exploration of the current American experience. She will be utilizing Tech Shop in San Francisco and Detroit to manufacture her roller coasters as laser cut 3D objects, stencils and silk screens, as pledge gifts to her Kickstarter backers. To find out more and to participate in the project click here.
The Art
The work explores a deeper understanding of our cultural icons, roots and myths about us as a nation. Noe's work will be based on historical facts of our roots along with present day cultural differences. Touring the nation in an election year, she will bring a fresh look at the culture that our current political landscape seeks to understand, if only for its own purposes. Illustrating initially with her photographs, blog and sketches, she will create an image library of portraits, landscapes, architecture, and stories for later use in a series of fine art oil paintings. In her earlier series,Amusement Architecture, portraits of Coney Island and the Santa Cruz Boardwalk, she found inspiration for the expanding the series. The roller coaster as the project's icon was chosen, as it is a universally shared American experience outside of religion and politics.
On April 7th, she will have completed a two-month Artist in Residency at Gathering Artists Gallery in Corrales, NM, who will represent her southwest series. She departs on the road on April 8th. Additional shows are "Tres Amiga's" a group show with New Mexico artists, Jade Leyva and Ann Osenga at the Red Boot Gallery, at The Range Café in Bernalillo, NM. Art opening is April 5th 5-8pm and runs for the month of April. Upon her return to San Francisco, she will install her American Bones photography exhibit at her gallery Velcrow Studios, in the Dogpatch neighborhood of San Francisco.