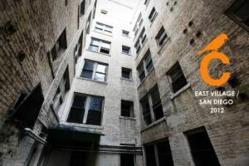 Community @ Carnegie Building follows the successful renovations and extension of the Community brand at San Diego's historic Onyx and Scripps buildings, as well as the Martin Building + Flats.
San Diego, CA (PRWEB) March 22, 2012
L.W.P. Group, Inc., announces the grand opening of Community @ Carnegie Building, the fourth addition to the company's award-wining brand of urban, design-inspired "live-work-play" properties. Community @ Carnegie Building debuts on Saturday, April 14, from 6:00 p.m. to 10:00 p.m., by presenting "Collide," a multi-disciplinary art show and benefit curated by Sezio and featuring works from an array of San Diego artists. Contemporary paintings, sculptures and multimedia installations featuring video and projections, will inhabit apartment units throughout the property. The event is all ages and open to the public. Admission is $5 with 100% of event proceeds benefitting Sezio, a 501c(3) non-profit arts organization that provides resources, exposure and community support to emerging artists and musicians. Community @ Carnegie Building is located at 950 Ninth Avenue in downtown San Diego's burgeoning East Village neighborhood.
"Community-branded properties aspire to bring attention to the vast creativity that exists in San Diego," says L.W.P. Group Managing Principal, Greg Strangman. "Events like "Collide" and an organization like Sezio are important for showcasing the many talented local and regional artists doing amazing work in a variety of mediums."
Community @ Carnegie represents another L.W.P. Group acquisition and renovation of a historic local building. The five-story, 60-unit Carnegie Building was originally built in 1912. Its Italian Renaissance design by master architects, the Quayle Brothers, Charles and Edward, has long been praised by historians. L.W.P. has maintained its classic character, while emphasizing the Community brand's objectives to:

Preserve and renovate existing structures by applying, whenever possible, globally-accepted "green" principles of adaptive reuse and sustainability.
Create boutique "lifestyle" properties in exciting neighborhoods that combine modern design and architecture with superior service amenities.
Create active, "hub" environments with "collision areas" — basically, places that encourage residents/occupants to interact and engage with their neighbors.
The Community experience begins upon arrival, at the property's entrance. It's visual, it's aural, it's textural. Among Community @ Carnegie's signature features:
Soundscapes – Custom music from Groove 24/7, an L.W.P. Group Internet music site, greets residents/occupants and their guests in all entryways and common areas.
Community Work/Play Events – Arts shows, food demos, ping pong tournaments, swap meets and guest speakers, are types of events Community residents enjoy.
Community Garden – Earth-wise objectives support a cooperative approach to sustainability, allowing residents to create their own areas for flowers, plants and vegetables.
Community @ Carnegie Building follows the successful renovations and extension of the Community brand at San Diego's historic Onyx and Scripps buildings, as well as the Martin Building + Flats. Monthly rents at the Carnegie Building range from $825 to $1195.
Information about all Community properties is available via the Community electronic media kit and the Community Facebook page.
About L.W.P. Group
L.W.P. Group, Inc. is an award-winning residential and commercial real estate developer. The company acquires, renovates and manages existing properties in San Diego, California, targeting urban communities considered ripe for long-term growth and stability. L.W.P.'s current portfolio is enriched by several buildings with historic local significance — valuable holdings that highlight the company's ongoing commitment to responsible preservation and restoration, intelligent architecture and design, and innovation.