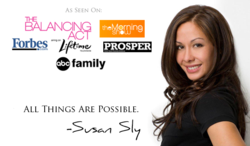 If you want to have it all, then your goals must be well balanced, encompassing all aspects of life
Toronto, Canada (PRWEB) March 22, 2012
Susan Sly, a recognized international personal empowerment coach, trainer, speaker, and author, appeared on "The Balancing Act" on Lifetime Television earlier today to promote her new highly acclaimed book The Have It All Woman. The book, which is endorsed by NY Times Bestselling authors Jack Canfield & Mark Victor Hansen from Chicken Soup for the Soul ™ and Dr. John Gray, author of Men are From Mars and Women are From Venus ™, focuses on assisting women on how to go from overwhelmed to overjoyed; from surviving to thriving, and how to live a life beyond your own imagination.
"Being a guest on "The Balancing Act" was an incredible experience," says Mrs. Sly. "I feel deeply honored and humbled to have been asked to share my journey. It is my intention that viewers will find hope in my story and have the courage to take the next step in their own lives."
To watch the interview online, visit her website or simply click here.
For Susan Sly, success did not come easily. In the year 2000, Susan Sly received a shocking diagnosis of progressive multiple sclerosis. The mom, elite triathlete and business partner was devastated as her body began to decline. In just a few months she lost her business and wound up homeless, living on her brother-in-law's sofa, trying to re-build her life despite her sickness.
Within three years of this devastating news, Susan transformed herself from a place of total desperation to creating a life of freedom. She went on to start a business with only $300 and became a self-made millionaire.
Today Susan is healthy, a mom to four children, lives with her best friend and husband, Chris, travels the world to support children who are the victims of child trafficking, and has helped many other women become financially free. Susan's transcendence from illness and despair to a life of fulfillment inspired her to write 'The Have It All Woman' book.
"If you want to have it all, then your goals must be well balanced, encompassing all aspects of life," says Ms. Sly. "Focusing on just one aspect, such as finance, and ignoring other pillars will leave you feeling incomplete. My 'Have it All Woman' Book is designed to assist women in finding a balance among the financial, mental, physical, emotional, spiritual, charitable, and fun aspects of life, so you can find complete happiness."
This book will detail how to create peace, balance, and fulfillment in all areas of your life, set and achieve goals you previously thought impossible, attract the relationship of your dreams, create a business around your passions that pays you what you're worth, give back to the world in a big way, and much, much, more!
About Susan Sly: Susan Sly is an in-demand transformational speaker and trainer. She has shared the stage with Mark Victor Hansen, the late Jim Rohn and more. Susan Sly has inspired thousands of people to live their dreams and create a life of abundance and fulfillment. From the year 1997 to present, Susan has been featured on television, radio, print media, and has speaking engagements booked into next year. She has appeared on ABC Family Television in the United States, Change Nation, The Morning Show in Australia and has been quoted in Forbes Magazine. For more information on Susan Sly, please visit http://www.SusanSly.com.