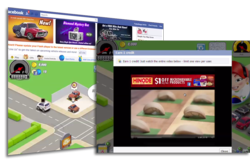 To be able to buy based on audience data on a social network like Facebook is huge, and we are particularly impressed with the above-average interaction rates and longer engagement we are seeing there
Emeryville, CA (PRWEB) March 22, 2012
TrialPay, the leader in transactional advertising, and TubeMogul, a media buying platform for brand advertising, announced a partnership that brings real-time media buying to social video advertising for the first time today.
In 2011, TrialPay launched video ads that appear within many of the top social games online. Users that choose to watch receive rewards, such as increased game privileges or Facebook Credits. To keep up with demand, TrialPay recently developed a private exchange, launching today, to let brand advertisers buy audiences across hundreds of games. For its first integration, TrialPay partnered with TubeMogul, an early leader in real-time media buying of video advertising, whose clients include many of the world's top trading desks and brand advertisers. TubeMogul's clients will be able to buy video ads for these new units alongside existing formats including pre-roll, in-display and more across a variety of devices.
Brand advertisers will have visibility into what they are buying and will also have access to detailed audience reporting from TubeMogul as a campaign proceeds to see exactly where their ads are running with built-in optimization to maximize engagement and brand impact in real-time. Combined with the advanced targeting possible by leveraging the Facebook platform, the results deliver brand advertisers an unprecedented opportunity to engage viewers in social media.
Social media games are increasingly of interest to brand advertisers. While the majority play within Facebook, others play within smartphone applications, gaming sites and elsewhere. Estimates on overall audience sizes vary, but almost all agree that they are large -- and growing. PopCap recently estimated that over 118 million users play social media games monthly in the United States and United Kingdom alone. eMarketer projects that, by 2012, over 68 million users will actively play games, up 29.6% from 2010.
In TrialPay and TubeMogul's private beta, the ads performed strongly, even stacking up well against in-stream units. Leveraging its partnership with KN Dimestore, TubeMogul executed brand surveys on placements from brands participating in a private beta, spanning over 4,000 random survey-takers. Overall, the new in-game Facebook placements lifted awareness and purchase metrics across the board, with especially pronounced results for message association and brand favorability.
Compass Point Media, which was part of the beta testing, saw great results. "To be able to buy based on audience data on a social network like Facebook is huge, and we are particularly impressed with the above-average interaction rates and longer engagement we are seeing there," said Bob Panger, a Senior Media Planner at Compass Point Media.
"There's growing demand for premium video and brand engagements from both social app developers and users," said Alex Rampell, CEO and Co-Founder of TrialPay. "Our partnership with TubeMogul (and others to follow) will enable us to increase returns for developers and provide relevant, engaging inventory for users."
"These new video ads provide a unique opportunity for brand advertisers to reach consumers where they are increasingly spending their time and discovering video -- in social media," said Brett Wilson, CEO and Co-Founder of TubeMogul.
About TrialPay
TrialPay's transactional advertising platform boosts revenue and converts more customers for online merchants by placing targeted promotions around transactions. TrialPay presents customers with compelling incentives and payment options from name-brand advertisers, increasing sales for online merchants while driving traffic and customer acquisitions for premier advertisers. With TrialPay, everyone wins: customers get a free product or significant discount on current or future purchases, advertisers acquire new customers on a pay-for-performance basis and online merchants earn more revenue from their current traffic.
TrialPay works with leading companies across many industries, including software, social apps, retail, online services and more. In four years, TrialPay has provided 80 million users with compelling payment options at more than 10,000 sites including Facebook, Gap, Trend Micro and Fandango. TrialPay holds key patents spanning alternative payment methods for products, services and virtual goods sold online. For more information, please visit http://www.trialpay.com.
About TubeMogul
TubeMogul is a video advertising and analytics platform that connects advertisers with highly targeted audiences. TubeMogul's advertising solution is powered by the company's unprecedented data platform that tracks billions of video streams every month from the Internet's top publishers. This unique technology enables TubeMogul to help advertisers find consumers who want to watch their videos - and watch them longer. Advertisers and marketers never again have to choose engagement and accountability over reach if they use TubeMogul's video advertising and analytics platform.