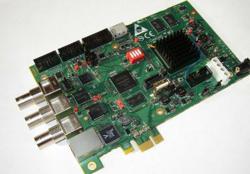 ... CineWaveHD is perhaps the most cost-effective, full-function, high quality, continuous operation hardware-based multiscreen decoder in the market today
Tampa, Florida, USA (PRWEB) March 22, 2012
Vela Research announced the introduction of its family of high performance multi-screen, multi-format decoding solutions with the CineWaveHD decoder.
Vela's CineWaveHD decoder, a board-level solution based upon Vela's Emmy award winning digital signal processing technology, utilizes a System on IC design to eliminate the need for a host PC, and comes in an ultra-compact half-size PCIe form factor. The CineWaveHD decoder enables high performance continuous decoding, with very high quality video at extremely low bitrates – and is ideally suited for live events, digital signage and streaming applications – as well as providing a price competitive solution for traditional OTT, Broadcast, Cable, VOD, video distribution, education, defense and healthcare applications. A spec sheet can be downloaded here.
The comprehensive feature list of the CineWaveHD decoder board includes these and a wide array of other features required in the most demanding user environments today:

MPEG2 Main Profile at Main & High Level
AVC/H.264, VC1 & MPEG 4 Part 2 Decoding
HD/SD/3G SDI, IP & DVB/ASI inputs
Component, Composite, S-Video & HDMI Outputs
Dolby® Digital pass through
Hardware and Software Demultiplexer Support
PAL/ NTSC/Cinema support
Genlock (bilevel and trilevel sync)
EIA 608 and 708 Closed Captioning
SD to HD or HD to SD conversion
Hardware based video scaling
Mike Reddy, President & CEO of Vela said, "designed specifically for the evolving and complex requirements of broadcasting, cable, VOD, digital signage, local playout and streaming specifically in mind, the CineWaveHD decoder produces unparalleled video decoding of the most common video formats including MPEG2, AVC/H.264, VC1 and MPEG4 Part 2 unicast or multicast in UDP or RTP and RTSP, and supports decoding of these formats from an ASI source as well. The SOIC design and hardware-based scaling enable highly efficient and high quality SD-HD upconverting and downscaling, and the increased reliability necessary for mission-critical applications. The CineWaveHD is perhaps the most cost-effective, full-function, high quality hardware-based single channel multiscreen decoder in the market today."
Kevin Grubbs, Vela's Director of Engineering, said "the CineWaveHD decoder supports HD/SD 3G SDI outputs with embedded audio encoding, Genlock reference input, analog video and audio outputs, HDMI output, SPDIF digital audio output, EIA 608 and EIA 708 Closed Captioning and other VANC data, NTSC, PAL and Cinema formats up to 1920x1080P @ 60 frames per second. The CineWaveHD decoder also incorporates an intuitive web based graphical user interface (GUI), for quick configuration and ease of operation within a time-saving and user-friendly encoding environment."
Users in the broadcast, cable, OTT, IPTV, digital signage, content distribution, VOD and education fields interested in further information or in test-driving the CineWaveHD decoder are invited to contact Kevin McDowell at 954-558-2063 (kmcdowell(at)vela(dot)com).
About Vela: Vela® is an Emmy® award winning company offering a complete range of high quality standard- and high-definition products for the broadcast, cable, OTT, VOD, post production, enterprise, and education markets. Vela designs and manufactures system and board level solutions used in a variety of MPEG-2, H.264, VC1 and Apple ProRes applications. Over the past 18 years, Vela has earned recognition by virtue of the trouble-free, high-performance and cost-effective solutions in use in demanding customer environments worldwide. Vela is based in Clearwater, Fla., USA, and on the web at http://www.vela.com.