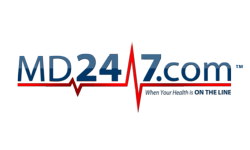 People are the key component to any healthcare program.
Tampa Florida (PRWEB) March 22, 2012
Seminole Florida based MD247 announced the launch of their LinkedIn discussion group on Wednesday March 21st. The LinkedIn discussion group was created to foster discussion regarding the field of telemedicine, garner product reviews and build a community of small and large businesses looking to positively change the face of healthcare for their employees. According to MD247 Founder Thomas Meehan, "people are the key component in ANY healthcare program and we needed to create a group where everyone felt comfortable contributing to the discussion."
The MD247 LinkedIn discussion group is open for membership by clicking here. LinkedIn discussion group members can share best practices, suggestions, questions, and read about the latest activities from MD247.
LinkedIn is a business-related social networking site. Founded in December 2002 and launched in May 2003, it is mainly used for professional networking. LinkedIn has more than 135 million registered users in more than 200 countries and territories. The site is available in English, French, German, Italian, Portuguese, Spanish, Romanian, Russian, Turkish and Japanese. LinkedIn has 21.4 million monthly unique U.S. visitors and 47.6 million globally. The site allows registered users to maintain a list of contact details of people with whom they have some level of relationship.
MD 247 is a twenty-four hour a day affordable concierge telemedicine company based out of Seminole Florida. All members have unlimited telephone access to a nationwide medical support team with just a phone call. MD247.com has a virtual platoon of Registered Nurses and board certified physicians available to members for ALL non-emergency situations. You can learn more about MD247.com by visiting their website.