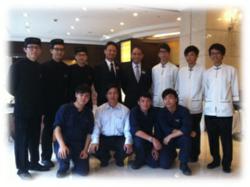 Hong Kong SAR (PRWEB) March 23, 2012
Managed by Kosmopolito Hotels International
(Hong Kong, 16 March 2012) Cosmopolitan Hotel Hong Kong, managed by Kosmopolito Hotels International, has recently been awarded its second Caring Company Logo presented by the Hong Kong Council of Social Services (HKCSS). This year nominated by the Hong Kong Sea School, the award is a good reflection of the hotels' continuous and growing mission to make significant social contribution.
Filling business with love
Although there is an increasing number of competitors joining the hotel industry, Cosmopolitan Hotel Hong Kong stands firm on its footsteps not to only focus on revenue, but also to make social contributions and shed the community with care and love.
"Running a business isn't just about the revenue. Social responsibility is also what a business should look into. I trust together with our collaborating organizations, we will push our efforts to gain a maximized result," said Anita Chan, General Manager. "We thank HKCSS for recognizing our accumulated work and we will continue to pile our path in caring for the community, employees as well as our environment." Chan added.
Collaboration with Hong Kong Sea School
Cosmopolitan Hotel Hong Kong has been joining hands with Hong Kong Sea School since 2008 providing placement programs for their students. The training is held 2 times per year at our Hong Kong hotel and all students will be allocated to Front Office, Housekeeping Department or other departments for comprehensive trainings. The major aim of this collaboration is to help equip the students with real-life work experience.
"The collaboration is catered for our senior boys while the hotel and sea school share the same vision to develop the students' potentialities in varied areas of hospitality industry before leaving school," says C.M. Chan, Careers Master of Hong Kong Sea School.
Collaboration with Christian Action
Cosmopolitan Hotel had worked hand in hand with Christian Action since 2008 to provide housekeeping training to people with low income. Hoping that with the skills they acquire here, it will be a great help for them to seek for a better job and thus improve their financial situation.
Keep the balls rolling
To ensure Cosmopolitan's loving spirit keeps growing, the hotel will continue to undertake social programs echoing our promise to care for the community and the environment. In the coming year like before, this Hong Kong Island hotel will continue implementing green policies to provide a healthy and eco- friendly place for both guests and staff. In addition to that, we will be collaborating with S.K.H. St. Christopher's Home providing hotel familiarization program with our general manager giving a personal talk on work interview skills. Since 2009, the hotel has been working closely with the Department of Engineering of Hong Kong Institute of Vocational Education (Tsing Yi), a member of Vocational Training Council. In this 4th year ahead, we will continue to provide several training programs that would be a good benefit for youngsters in the society.