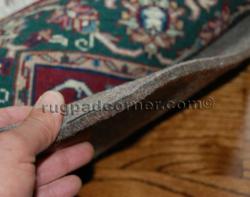 We only manufacture Superior felt rug pad in the most dense 40 ounce quality so that it can protect and reduce noise better than any other rug pad.
Wilton, CT (PRWEB) March 24, 2012
Rug Pad Corner, the nation's online source for quality rug pads, is pleased to announce that its Superior felt rug pad was rated as best noise reduction rug pad. Superior is made in a dense 40 ounce quality at 3/8 of an inch thick and absorbs sound and noise from floors where noise is an issue.
"There are several benefits to manufacturing a 40 ounce dense felt rug pad and noie reduction is one of them," states Sam of Rug Pad Corner. "There are plenty of 20, 28 and 32 ounce felt rug pads made, yet none of them absorbs sound like our Superior 40 ounce quality." Sam continues to say that while Superior felt rug pad offers the best protection for rug and floor use, it helps to also know that it offers the best sound insulation for those areas that need it.
One way to measure quality within felt rug pads is by the ounces, or density. The lower the ounces, the lower the cost, so for price reasons, the most popular felt rug pads are available in 20, 28 and 32 ounce. While these may be sufficient for some uses, they are not ideal as noise reduction rug pads. A true 40 ounce felt rug pad, as Superior is, is hard to find because it requires intense manufacturing. Rug Pad Corner takes the time and investment to manufacture its Superior rug pad to a specific density. "We don't like to skimp on quality of production," states Sam. "A true 40 ounce dense felt rug pad makes for the best in noise reduction, as well as protection for any area rug and any hard floor." The higher the ounces, the more dense the rug pad and the more protection it offers rug and floor.
Thousands of landlords and tenants have ordered Superior felt rug pad for noise issues and all agree that it is the best rug pad they have used for noise reduction. The rug pad has become popular in multi level homes, condominiums and apartments where noise from floor to floor can be a problem. "We are proud to know that our Superior rug pad adds comfort on all levels," continues Sam. "While being best at noise reduction, it is also one of the most comfortable felt rug pads under any area rug on any hard floor surface."
Rug Pad Corner offers Superior felt rug pad in all sizes and shapes. Since not all rugs are exact, the company also custom cuts to exact rug size at no extra charge. All Superior rug pad orders ship for free within the contiguous United States.