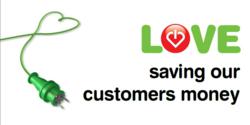 Save money on business electricity with Love Energy Savings
Manchester, UK (PRWEB UK) 26 March 2012
Love Energy Savings, a Bolton based company who compare business electricity prices have released their new website. The Bolton business recently went through a revamp and massive expansion to the business. They relocated to bigger offices in November 2011, in order to accommodate their plans for expansion. The company then released their new brand internally to staff in December 2011, and went through a complete revamp of the call centre over Christmas, so that staff walked into a new fresh and funky office space. This expansion helps Love energy Savings serve more customers and help customers get cheap gas and cheap electricity.
Alongside the company expansion, Love Energy Savings is looking to expand its online presence via its new website. The website was built by the experienced web gurus at Adastra, who are a locally based Lancashire business.
The aim of the website is to educate customers about their business proposition, which is to save UK businesses on their business energy bills. The website is a forum which will educate businesses of all sizes about business energy tariffs and also give helpful money saving tips. The website provides the public with contacts to contact in order to save money on their business electricity and gas.
With business energy prices being such a necessity but often very expensive, Love Energy Savings aim to get the message across to businesses that there are ways to save money and there are other tariffs out there.
The website is simple to use and by filling in a simple form, the customer will receive a call and an experienced energy savings expert will call to review their energy bills and offer helpful hints on how to save on business electricity prices.
The website is accessible at http://www.loveenergysavings.com. Love Energy Savings help save on average £1050 on Business energy per Small Medium Enterprise per year.Love Energy Savings help their clients' save on business gas, electricity, phone and insurance. They have been doing that for countless customers nationwide, since 2007. They are experts in the field of saving their clients' money on business energy and run through the process from end to end with their clients meaning that the changeover is seamless and allow their clients to sit back, relax and let the professionals take care of their business energy switch. To speak to an advisor for advice on saving money call 08000932791.