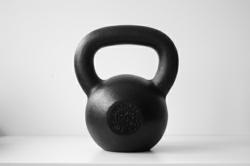 I started using kettlebells about four months ago and I already notice a big difference in how I look and feel
Lincoln, Nebraska (PRWEB) March 24, 2012
The webmaster on the Kettlebells For Sale website, which is better known as KettlebellCrazy.com, today announced the company is now offering a kettlebell and DVD set for beginners. Kettlebell workouts have grown considerably over the last five years or so simply because they focus on building both strength and stamina in one workout session.
People who buy kettlebells are among the millions of exercise afiosonados around the world who are looking for exercises that can enhance their strength and fitness. While swimming, cycling and running are effective exercises and recommended by top experts, sometimes changing a routine is necessary to get a mental break from the same workout and to avoid falling into a plateau.
"I started using kettlebells about four months ago and I already notice a big difference in how I look and feel. I look great but I feel better. I no longer wake up tired so I don't have to drag myself out of bed in the mornings and I'm not falling asleep at my desk at one p.m. in the afternoon. I highly recommend kettlebells to anyone who wants to look and feel better." – Ray Newsome
The origin of the kettlebell sometimes surprises people as it dates back almost three centuries ago in Russia. It wasn't until the late in 1948 however, that kettlebell lifting was made into a sport and almost immediately gained widespread acceptance. While being used as a sport initially, kettlebells were later used for military and mixed martial arts training.
A kettlebell such as the Ader kettlebells are made of cast iron that looks like a cannon ball with a handle and come in different weight options. The handles are grasped firmly so the kettlebell can be swung or lifted as part of the exercise.
About
The benefits of kettlebell exercises can be felt all over your body after a solid workout. It is one unique gym tool that targets muscle groups in all body areas from your arms and back down to your gluts and calves. The kettlebell is a small rounded weight with a handle, originally used in Russia, but now getting lots of hype in America with our obesity and fitness craze.
Contact
Michael Kontras
Ader Kettlebells
Lincoln, Nebraska
Email: info(at)kettlebellcrazy(dot)com
Website: http://www.kettlebellcrazy.com/