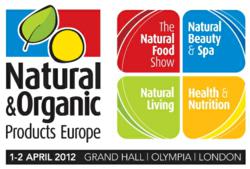 (PRWEB) March 23, 2012
London, UK: The Natural Food Show at Natural & Organic Products Europe returns to Olympia, London, on 1-2 April 2012, with over 300 exhibitors from all around the world. The UK's biggest trade showcase of natural, organic, Fairtrade, free-from, sustainable, and artisan food and drink, the following is just a taste of some of the latest innovations being introduced at this year's event.
New for 2012 – revamped Original Ayurvedic blends from herbal innovators Pukka Herbs (stand 5070). Pukka has rebranded their original teas – Relax, Refresh and Revitalise – that were launched when Pukka started in 2002. Retaining the vibrancy and iconic recognition of these incredible teas, Pukka has updated the design and copy to reflect the importance of its heritage in Ayurveda and to educate consumers on the authenticity of the blends. In response to consumer demand, Pukka will also be launching a new selection pack of award-winning teas as part of its 10th birthday celebrations. Containing four sachets of five bestselling blends – Three Mint, Three Ginger, Three Tulsi, Three Green and Three Fennel, Pukka's selection pack offers first-time consumers an exciting introduction to Pukka's tea portfolio.
Nature's Path UK (stand 6060G, Soil Association Organic Marketplace) is proud to unveil its first foray into 'free-from' snacking for younger coeliacs, with the much anticipated arrival of its magnificently nibbly Crispy Rice Bite range that come in three fantastical flavours: Choco Nobbly, Berry Bobbly and Peanut Butter Bites. The bars are a natural evolution for Nature's Path into kids' gluten-free snacks with mainstream appeal. Focus group research showed that parents of recently diagnosed kids (and the kids themselves) have historically felt like forgotten 2nd class citizens at the breakfast table. Crispy Rice Bites are actively endorsed by Coeliac UK.
Immergruen..green imports (stand 8080F, Vegan Society Pavilion) is proud to introduce some new and exciting Austrian organic products. These include NEUNER'S organic Baby Stomach Ease Tea – the UK's first and only organic herbal tea for babies, naturally caffeine and sugar free; MY E. Bio – Europe's only organic energy drink, with natural ginseng which tastes like a classic energy drink; LANDGARTEN's savoury and sweet snack range, such as the soya chocolate mix or pumpkin seeds covered in dark chocolate; and SONNENTOR's award winning organic spice blends – Aladdin's Coffee Spice Mix and Shanti's Tandoori Masala, which bring the flavours of the Middle East and Asia into your kitchen. The SONNENTOR range was voted Best New Product 2012 at BioFach in Germany, earlier this year.
Essential Trading Co-operative (stand 8003) is launching a beautiful range of biodynamic, Fairtrade, organic herbal teas in Camomile; Camomile & Spearmint; Hibiscus; Peppermint & Spearmint and Peppermint. Cultivated in Egypt on reclaimed desert land, these teas sustain a healthy, resilient ecosystem on which the livelihoods of thousands depend. Organic/fairtrade teas abound, but organic, Fairtrade and biodynamic tea is pretty special. Sample Essential's new range of eight flapjacks in fruit, nut and chocolate varieties. Taste its pure, raw, unpasteurised New Zealand Wild Honey. Certified organic and with independent proof of its bioactivity, this genuine manuka honey has a superior flavour and well-being potential. Join nutritionist Christine Bailey on the stand and try her delicious recipes using Essential ingredients.
Cheeki Bottles (stand 4090A) launch into UK market! Established by Simon Karlik and co-directors, Larry and Robyne Dimant in May 2009, Cheeki has become Australia's leading brand of stainless steel water bottles with recent expansion into the New Zealand market. Since inception, Cheeki's range of BPA-free products has grown significantly to include environmentally sound flasks, mugs and shakers. Cheeki uses a Food Grade 304 stainless steel (also known as 18/18) and features varnish paint for durability. Available in a variety of shapes, designs and sizes starting from 350ml all the way to 1.2 litre, there is something for everyone from babies, toddlers, athletes, travellers and everyday users.
New exhibitor Wellness Foods (stand 9050) will be showcasing the latest innovations from its market leading brands. These include: new and innovative 100% fruit snacks from Fruit Bowl; a new pack design from Dorset Cereals; a new Manuka honey design; and a national UK TV campaign from Rowse Honey.
After winning a Two Gold Star Award for its Flapjack Mix at The UK's Great Taste Awards and Gold for its Tomato and Herb Bread/Pizza Base Mix at the Irish Food Awards in 2011, Cathy's Spelt for Health (stand 9091) have rebranded and are ready to export. All five mixes will be on display at this year's show – Multiseed Bread Mix; Wholemeal Bread Mix; Tomato and Herb Pizza Base/Bread Mix; White Scone Mix; and Flapjack Mix. They are made from spelt flour, and are yeast free. The breads do not contain any added sugar, contain all natural ingredients and are gentle on the digestive system.
Nordberry (stand 9057) – the Suffolk-based company specialising in natural products from Finland, is pleased to announce that it will formally unveil its new range of health tonics at the show. Wild berry juices have long been known for their high vitamin content and health benefits, such as supporting a healthy immune system, cholesterol control and much more. Merja Stephens, co-founder of Nordberry and a native of Finland, commented: "It's exciting introducing products that were part of my childhood and something we Finns still drink daily."
Representatives from Amy's Kitchen UK, the family-run vegetarian company, will be showcasing the full range of Amy's Kitchen products at the show; including a completely new canned, vegan chilli and the company's latest fresh-frozen, gluten-free Country Vegetables and Pasta (stand 6070). A taste unto their own, all of the Amy's Kitchen dishes are prepared to the same standards as anything home cooked, and provide a great tasting and natural meal-for-one that can be cooked in the microwave or the oven. Other available dishes will include the Amy's Kitchen Rice Mac and Cheese, Vegetable Lasagne and the Rice and Bean Burrito.
Available and launching at the Natural Food Show from Wholebake Foods (stand 8067) are Seed Stacked's amazing Super Sprinkles! Sprinkle Some Goodness onto your favourite dishes – perfect for salads, stir-fries and everything in between! With its mix of roasted seeds and spices, transform the flavour of any meal whilst adding a fantastic health boost that seeds naturally give. Available in Thai and Italian flavours – indulge yourself in health today!
Authentic, organic, Italian and delicious best describes Tuscany Corner (stand 7096), with its growing collection of products from Tuscany. New to the UK, Tuscany Corner offers the very best quality products that form the cornerstone of authentic Italian cooking. In addition to offering cheese, handmade pasta products, and full bodied classic pasta sauces, the Tuscany Corner range boasts organically-certified extra virgin olive oil. Sourced directly from La Tenuta's own olive groves, the oil is characterised by a mild, fresh and slightly fruity flavour. Perfect for cooking with, or served as an accompaniment, it complements any dish including salads, bruschetta and grilled fish or meats.
PROPERCORN (stand 9010D, FoodLovers Approved Pavilion) is the young British gourmet popcorn brand, which is ready to show the nation how popcorn is done properly. Following secret recipes that use only the most authentic ingredients (including garden chives, roasted onions, sun-dried tomatoes and crème fraiche), the freshly popped butterfly corn is delicately tumbled to create a delicious, guilt-free snack and comes pillow packed in 4 delicious flavours: Fiery Worcester Sauce & Sun Dried Tomato; Sweet & Salty; Sour Cream & Chive; and Lightly Sea Salted.
Lily's Kitchen (stand 8035) offers a range of Organic and Holistic food for both cats and dogs. Lily's Kitchen uses the highest quality ingredients in its food and have been voted the UK's best pet food company in 2009, 2010, 2011 and 2012 by the Ethical Good Shopping Guide. Last year, they were also voted most innovative pet food brand by Mintel. This year, will be exhibiting three new products: Immune boosting Power Flower treats for dogs; Grain-free Venison and Wild Rabbit Terrine for dogs; and Organic Turkey Dinner for Cats.
teapigs matcha green tea is the new must have product of 2012 (stand 2019). teapigs matcha is an organic green tea powder that's packed full of antioxidants and nutrients. A must stock item for health food shops, one serving contains 70 times the antioxidants of orange juice, and in a survey of over 700 people, 98.9% said they would buy another pack of matcha after trialling it for two weeks. teapigs also recommend coffee shops and cafes serve matcha lattes as a great alternative to coffee. Matcha lattes have taken off in the States and Canada and the UK is next.
Lulo, Guanábana and Mora are the new 'must try' fruit drink flavours of 2012 offering a taste of the South American Andes. These new delicious flavours, together with Mango, make up the delicious range of all-natural nectar fruit drinks from Euro-Colombian start-up company JUNA (stand 9019). The fruits used in the JUNA drinks offer intrinsic health benefits, with high vitamin, protein and fibre content. Through its drinks JUNA also seeks to make a positive impact on the communities growing the fruits for its products, opening new markets for small farmers and their families in Colombia. 5p per bottle sold will go towards the JUNA Project, designed to strengthen fruit grower associations in remote areas of the country.
Grab your daily dose of probiotics – in a chocolate bar. Introducing ohso (stand 6075), the must-have healthy Belgian chocolate. New ohso probiotic chocolate bars, made from 53% delicious Belgian chocolate, are clinically proven to be three times more effective at delivering your daily probiotics than a yoghurt drink – and at only 72 calories a bar! Each dairy-free, individually wrapped bar is designed to provide consumers with the optimum daily amount of probiotic to help support their digestive health, restoring the bacterial flora of good bacteria in the gut to help improve immunity and overall health and wellbeing. The UK's BBC Radio 2 presenter Jayney Lee Grace – a huge fan of ohso – will be on the stand between 2-3.30pm on Sunday 1 April.
The Booja-Booja Company (stand 9003) creates guilt free, gloriously scrumptious organic chocolates and a mouth-watering alternative to dairy ice cream. Everything it makes is dairy free, vegan, organic and utterly delicious. They now have three exciting new truffle flavours to tantalise the taste buds: Rum Sozzled Sultana; Banoffee Toffee; and Stem Ginger. The new flavours, as well as its old favourites, will be available for tasting at the show. Also recently released are its Artist's Collection Boxes, which are handmade and painted by a community of artists in Kashmir.
Established in 2010, LULL/The Botanical Drinks Co (stand 9010C, FoodLovers Approved Pavilion) is an artisan drink producer, passionate about creating great tasting healthy soft drinks that play to the senses, sophisticated drinks made with nature's finest botanicals. LULL, its first drink to market, is a calming drink to soothe mind and body, blended with botanicals with proven calming properties. Created to tap into the desire for healthy 'good-for-you' drinks, LULL has a clean and balanced taste, with a subtle natural sweetness. Packaged in a stylish aluminium bottle, LULL is made from a refreshing blend of kiwi and berries with the deliciously distinctive taste of lavender.
Specialist Polish food importer and distributor Morgiel Fine & Organic Foods (stand 9093) has launched a range of organic, marinated wild mushrooms. Varieties include Bay Bolete; Cep; Chantarelle; Slippery Jack; and Honey mushrooms. All of these mushrooms are certified organic, and grow in forests, which have not been treated with chemicals for at least three years prior to picking. These products show how versatile wild mushrooms can be. They can be eaten on their own, but are also perfect accompaniment to many dishes. There is a gap in the UK market for organic, marinated wild mushrooms.
The Sicilian DELI (stand 6080B, Italian Food Village) sources only the best 100% organic fine foods from local farmers and specialty producers in Sicily. Its selected products are not just natural they are also unique and particular. Exclusive new products for 2012 include The Sicilian Prosciutto crudo; Salami and cured sausages; Extra Virgin Olive Oil from a unique Sicilian cultivar; Multiflowers, Eucalyptus and Sulla's flowers Honeys; and typical Cheeses, such as Caciotte or Cacio Madonita. Only free range animals make our selected products, and there's no industrial farming involved whatsoever.
Mini Magoo's organic cereals, winners of numerous Organic Food Awards, go from strength to strength to bring this year's show visitors the broadest choice ever (stand 6002S, Soil Association Organic Marketplace). Proven by popularity, the brand's tradition of 'the goodness that you choose' continues with a number of tasty fruit, berry or spice varieties. At the Natural Food Show 2012, Mini Magoo's cereals, including Muesli, Granola and Porridge, are joined by recent classic and fun, yet exclusive additions sure to be a hit for all the family: Cornflakes, available natural or with ginger, orange or blueberries; Granuesli, with blueberries, dates or ginger, and the award-winning Funstuff in a ginger variety.
New for 2012 is Storm Tea's range of 16 new loose leaf tea blends, which are now available with amazing blends such as Cherry and Beetroot tea and Tulsi herb with Orange & Ginger. To ensure the best flavours possible the company has sourced ingredients from all over the globe from prime tea, fruit and herb growing regions. For example, its lemongrass and vanilla tea contains lemongrass sourced from Egypt, the orange from Ghana, the vervain from France, and vanilla from Madagascar! Visit stand 6002B in the show's Soil Association Organic Marketplace to find your 'perfect Storm'.
Natural Balance Foods (stand 8071) is the UK's fastest growing natural snack company, producing genuinely healthy products the way nature intended. The products are all made in Britain, and are fundamentally different from 99% of the bars out there. Natural Balance Foods will be exhibiting its award-winning, market leading Nākd bars and introducing two new flavours to its raisin range – Crazy Cola and Tangy Lime (joining Cherry, Lemon, Pineapple and Orange flavours). The more-ish new raisin varieties are completely natural, contain no added sugar, and taste simply yummy! Each 25g bag of Nākd Infused Raisins is fat free, contains only 68 calories, and counts as one of your five a day!
Natur Boutique (stand 6002W, Soil Association Organic Marketplace) will be showcasing its new Tropica range, which includes organic snacking bars and fruits, which all use organic, natural, raw ingredients with no additives, colourings, flavourings, preservatives or GMO ingredients. What really makes the range stand out however is its main ingredient – 'Ladies Fingers Bananas'; which are also known as 'Date' or 'Fig bananas' because of their delicious sweet, sticky taste. Try them on their own as Tropica's Dried Whole Bananas, or in one of their organic bars (Organic Banana Bar, Organic Fruit Bar and Organic Peanut Bar) where the bananas produce a unique delicious flavour unlike anything else currently available.
Tierra Verde (stand 7070) is a company based in Cordoba, Spain, which specialises in the export of the best organic products from Andalucia into the UK. It has a variety of great olive oils from Seville and Almeria; wines, fortified wines, and vinegars from Cordoba; Pâté and marmalades; honey from the parque natural de Grazalema; and aloe vera cosmetics from Almeria. Tierra Verde and its producers are passionate about the care and welfare of their land and country to produce the best quality foods and wines.
Chia Seed suppliers, Chia bia (stand 7100) are back at the Natural Food Show this year to launch the much anticipated 'Chia & Blueberry Mix' and 'Chia & Cranberry Mix'. The demand for Chia across the UK is growing as consumers continue to realise its health benefits. Chia bia's new products appeal to consumers demand for natural, as a unique drying process is used where only water is added to the blueberries and cranberries to create a 100% natural fruit powder. This powder is mixed with Chia bia's Milled Seed to produce delicious products that can easily be added to porridge, yogurts, and smoothies etc.
Look for the FAIRTRADE Certification Mark, coming soon to all six flavours of Classic Glee Gum (Verve Inc, stand 8060)! Fair Trade is all about a better deal for farmers and workers. When you see the Mark on a box of Classic Glee Gum, it means that the cane sugar inside it meets the social, economic and environmental standards set by Fairtrade International, and that the farmers and workers have been paid a fair and stable price for their produce. Also exciting? It's the first time this sweet sign will be spotted on a pack of gum – ever!
Kallo Foods (stand 6028) has recently launched Organic, Belgian Dark Chocolate Rice Thins and a new range of multigrain corn and rice snacks in eye catching new packaging, which strongly reflects the brands positioning of simple, natural pleasures. Both products are made from 100% natural ingredients and no artificial colours, flavours or preservatives, enabling the consumer to snack with a clear conscience! The chocolate thins use only the finest Belgian chocolate and yet are only 56 calories per slice, making them the perfect, healthy alternative to a chocolate biscuit. The Kallo corn and rice snacks are only 1% fat and less than 100 calories per bag, making them the perfect, healthy alternative to a packet of crisps.
InSpiral Visionary Products (stand 9056) launch new Raw Dehydrated Cacao & Cinnamon Kale Chips and the first ever Artisan Handmade Raw Chocolate Easter Eggs. Enhanced with nourishing superfoods, such as maca and barley grass, pure essential oils, fruits and flowers, inSpiral's line of Raw Easter eggs are suitable not only for those on specialist diets, but also for children and those watching their weight. inSpiral's new raw dehydrated kale chips are causing an absolute storm in the health food world. Imagine a whole bag of green curly kale (officially the most nutrient-dense vegetable per calorie and per weight), enriched with 100% natural ingredients and shrivelled to the size of a packet of crisps, yet with only 60-90 calories per packet!
A daughter's wish to provide tasty and natural food after her mother was diagnosed with coeliac disease has culminated in an award-winning UK business – Freedom Deli (stand 9008). The original Lasagne, Fish Pie and Shepherd's Pie have been revamped with a new image. The company wanted the packaging to say 'this tastes great for everyone, whether you have a food intolerance or not' and to celebrate the natural handmade quality. This is just the start though. Freedom Deli will be launching new products, including traditional scotch eggs and a gorgeous pastry topped Chicken and Leek Pie – all of which can be seen at the Natural Food Show 2012.
Exportiamo (stand 6080C, Italian Food Village) will be introducing two new products to the UK market, both made by Rigoni di Asiago. FiordiFrutta, Italy's best-selling brand on the jam and marmalade shelf is a range of organic, pure fruit spreads. Each jar is packed with 1.5kg of sun-ripened organic fruit and cooked at low temperatures to preserve nutrients and the full fruit flavour. With very low levels of sugar (only naturally-occurring from fruit), it is tastier and healthier than traditional jams. Nocciolata, the connoisseurs' hazelnut and chocolate spread from Italy, is made from the finest organic ingredients, including Italian hazelnuts and dark chocolate. Unlike others, no palm oil, no hydrogenated fat, no artificial flavours are used.
Kara Dairy Free (stand 8051) has launched a Chocolate + Calcium 1 Litre drink to join the successful Original + Calcium milk alternative, which has become one of the Health Trade's 50 best-selling food & drink products. Made with natural ingredients, including silky smooth, freshly pressed coconut milk and premium quality cocoa powder, it offers a rewardingly rich flavour with less than 2% fat and 0% cholesterol. Kara Dairy Free Chocolate is reassuringly free of lactose, dairy protein, soya or gluten. RRP £1.99 and stocked by most Wholesalers.
EcoPeace is launching its range of 100% Natural Mangoes and Exotic Produce at the Natural Food Show 2012 (stand 9035). The mango range comprises of three varieties: Kent, Smith and Baguinda, grown in Pout Ecovillage in Senegal. EcoPeace will also present its range of exotic produce, preserves, cordials, nectars and herbal teas produced in Pout Eco-village. For guaranteed freshness, its 100% natural mangoes are only harvested 3-4 days before shipment (compared to 21 days for chemically-treated mangoes). EcoPeace mangoes will be available in UK around 21 June 2012.
New French exhibitor Comptoirs et Compagnies (stand 1060) will showcase its Stevia range. Stevia is a plant from South America that was traditionally used by Guarani Indian people to sweeten their yerba-mate herbal tea. Comptoirs et Compagnies have extracted its main sweetening components, which have a sweetening power that is 250 times higher than classical sugar. The complete range adapted to every use, includes: STEP – Natural sweetener from stevia extract; STB – Box of stevia extract powder; STD – Dispenser of 250 stevia extract pills; and new STD100 – Dispenser of 100 stevia extract pills.
New for 2012, is the ready-to-drink Rocks Organic Fruity Spring Water range (stand 8101). It includes still drinks aimed at busy families on the go, while sparkling variants are presented for the take-home market. Labelling across the extended Rocks range has been simplified to accelerate consumer understanding at point of purchase. The Rocks Cordial selection is to benefit from new illustrations, giving them a more sophisticated look and deepening their adult appeal. Fruit Juice Concentrates have been added to the Rocks portfolio in 2012. These dilutables have been available under Rocks' sister brand Meridian, for many years and are well known to health food retailers and shoppers.
SuperLife's SuperFood Breakfast Topping and SuperFood Smoothie Mix have proven to be a phenomenal success, due to their user friendly nature, great taste and high health benefits. Consumer feedback and response has surpassed everyone's expectations. SuperLife is a new Irish and Israeli company that specialises in SuperFood Blends. The co- founders, Talya Lewin and Diarmuid Russell, holistic health and fitness counsellors, launched their products on the Irish market 4½ months ago. There are many more products to come and they are very excited to enter further into the European market (stand 9099).
Cocofina (stand 9025) a very popular British coconut water brand is unveiling three innovative flavours of coconut water in very attractive PET bottles. The new flavours (Apple & Blueberry, Pineapple & Lime and Tea & Passion Fruit) are made in Europe incorporating premium ingredients, such as ginseng, chamomile and green tea. This makes Cocofina the first coconut water company in the world to combine the isotonic properties of coconut water, with the antioxidant properties of tea. Cocofina - Coconut Water Tea & Passion Fruit won the award for the most innovative drink at the World juice conference in Madrid this year.
First time exhibitor Miracle Noodle (stand 5080F, USA Pavilion) is the premier, calorie free, soy free, gluten free, Kosher Shirataki noodle. One of the most versatile noodles, Miracle Noodle caters to a wide range of different demographics – from diabetics to Celiacs, bodybuilders and for weight loss. With the largest variety of Shirataki noodle shapes on the market, Miracle Noodle is on the cutting edge of innovative new low calorie, guilt free products.
Panda Liquorice (Bravura Foods, stand 8036) is delighted to celebrate its 30th birthday at this year's show. It has been a big year already with the launch of new Strawberry Bears, proceeds of which are being donated towards the care of Edinburgh Zoo's pandas – Sunshine and Sweetie. Strawberry Bears will be available to try at the show, alongside its award-winning Blueberry Liquorice, which delivers a delicious combination of two ʻsuper-foods'. As with all of the products in the All Natural range, it contains no artificial ingredients, virtually no fat and is sweetened with real fruit puree. Plus the entire All Natural range is suitable for vegetarian and vegans!
Chimpanzee Energy Bar (stand 8040) is an easy solution in a form of energy bar. No extreme formulas or tricks. The Chimpanzee energy bar charms you with its flavour and provides enough energy for your sports performance. It is a completely natural product with no preservatives or dyes. The Chimpanzee Energy Bar supplies the body with the immediate energy through monosaccharides, which are found in cane sugar, molasses and fruit. The Chimpanzee energy bar releases the energy gradually thanks to polysaccharides, which are normally found in wholemeal cereals. Thus it provides gradual and enough energy for your sports performance.
Clif Bar & Company (stand 6015) is a leading maker of wholesome and nutritious foods and drinks, helping people do better in sport and lead healthy lives. The original 'Clif Bar' was born in 1992 and has since grown to be the biggest selling energy bar in the US. The newest product within the range is the Clif SHOT Gels, which deliver energy to the bloodstream in five minutes or less. They are available in four delicious flavours: Citrus; Double Expresso; Raspberry; and Chocolate. The packaging features the patented Litter Leash® to keep the torn-off tops from littering trails and roads.
The TIANA Fair Trade Organic range includes coconut superfoods and a unique selection of raw active honeys (stand 8030). Platinum award winner – TIANA's raw extra virgin coconut oil is not just a cooking oil, as part of a balanced diet it is essential for everyone who has low metabolism, and eaten naturally it helps to strengthen the immune system. High Omega 3 organic coconut butter and organic pure coconut butter have superb heat resistant, making them a safer alternative to cooking oils. TIANA's raw active honeys provide considerable benefits for therapeutic use. Coconut baking flour is excellent for gluten free, low carbohydrates and fibre rich diets. Sugar- free, raw crystallised coconut nectar is a delicious low Glycemic sugar replacement.
The Natural Food Show at Natural & Organic Products Europe (http://www.naturalproducts.co.uk) on 1-2 April 2012 is free to attend for pre-registered trade buyers and relevant press representatives only. To register, please visit http://www1.registerbynet.com/reg.asp?showcode=npe12&source=NPE12050 (and quote priority code NPE12050 when prompted).
###
Media enquiries & press pass requests to:
Emma-Louise Jones, PR Manager
t: +44 (0)1273 645134 mailto:ejones(at)divcom.co.uk http://twitter.com/DiversifiedUK
Members of relevant trade and consumer beauty media can reserve press passes to Natural & Organic Products Europe by contacting Emma-Louise Jones at mailto:ejones@divcom.co.uk (please note, press passes are not available to advertising or PR representatives and additional details may be requested to verify journalistic activity before a press pass is issued).
Exhibitor enquiries to:
Simon Barry, Event Director
t: +44 (0)1273 645125 mailto:sbarry(at)divcom.co.uk
http://www.naturalproducts.co.uk
http://twitter.com/NatProductsShow
http://www.facebook.com/pages/Natural-Organic-Products-Europe/10062212667
Notes to Editors:

If reproducing this press release in print, please include the Priority Code: NPE12050.
2011 Natural & Organic Products Europe Visitor Survey Results: Finding new products is the main motivation of visitors attending the event (75.1%) with keeping up to date with the sector a close second (66.7%).
Natural & Organic Products Europe is the UK's biggest trade show for the natural products, health food and organic sectors. It is the key event of the year for independent health store retailers, wholesalers and distributors, supermarket and multiple buyers, and specialist and organic shop owners looking to source the very best in natural, organic, biodynamic, fair trade, artisan and sustainable products.
VISITOR INFORMATION:
Admission: Free to all trade visitors
Location: The Grand Hall Olympia, Kensington, London W14 8UX
Opening hours: Sunday 1 April 9.30–17.30 & Monday 2 April 9.30–17.00
Diversified Business Communications (UK) Ltd (Diversified UK) is a fast growing event organising and publishing company based in Brighton. Diversified UK publishes Natural Products and the Natural Beauty Yearbook. In addition to Natural & Organic Products Europe, the company also organises camexpo – the UK's leading event for complementary and alternative healthcare; lunch! – the UK's premier out of home food and drinks trade event; office*; office INTERIORS; The Service Desk & IT Support Show; and, new for 2012, Natural Products Scandinavia. http://www.divcom.co.uk
Diversified UK is part of Diversified Business Communications, a leading international media company with a successful portfolio of sector leading exhibition, conferences, publications and websites.