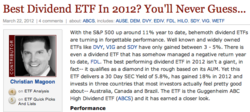 The best performing dividend ETFs in 2012 own dividend paying companies from around the world.
Chicago, Illinois (PRWEB) March 23, 2012
The Guggenheim ABC High Dividend ETF is the best performing dividend ETF in 2012 writes Magoon Capital CEO, Christian Magoon, in an article published by investment site Seeking Alpha. The article highlights the top five dividend performing dividend ETFs year to date and focuses on the performance leader from Guggenheim. This ETF invests exclusively in dividend paying companies in Australia, Brazil and Canada.
Magoon, Publisher of ETF focused websites GoldETFs.biz and IndiaETFs.com, finds the best performing ETFs in 2012 all share a common bond: a global, versus domestic, focus on dividend paying companies. According to the article, the top performing dividend ETFs ranked by performance thus far in 2012 are:
1. Guggenheim ABC High Dividend ETF
2. SPDR S&P Emerging Markets Dividend ETF
3. EGShares Low Volatility Emerging Markets Dividend ETF
4. WisdomTree Emerging Markets Equity Income ETF
5. WisdomTree Australia Dividend ETF
Currently there are over 30 dividend ETFs available in the United States containing approximately $40 billion of investor assets. The largest dividend ETFs include the Vanguard Dividend Appreciation ETF, the iShares Dow Jones Select Dividend ETF and the SPDR S&P Dividend ETF. Together these domestically focused ETFs contain over $29 billion of investor assets.
About Christian Magoon
Christian Magoon is CEO of Magoon Capital and Publisher of ETF focused websites GoldETFs.biz and IndiaETFs.com. Christian regularly shares his investment insights through leading financial media outlets. He is a leading contributor to investment site Seeking Alpha and a member of the Motley Fool Blogging Network. An ETF insider, Christian has launched more than 40 ETFs in the United States. Follow him on Twitter @ChristianMagoon
About Magoon Capital
Magoon Capital is a firm founded to provide strategic counsel and initiate business development within the financial industry. Pair Digital, a division of Magoon Capital, was founded in early 2011 to pair investors with the investment knowledge they seek about ETFs through focus, education, insight and community. Pair Digital properties include, GoldETFs.biz and IndiaETFs.com which launched via website, Twitter, You Tube and Facebook in the fall of 2011.