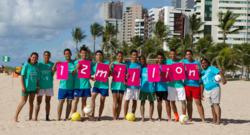 All 20 of the International Inspiration Torchbearers have been a real inspiration in their community and demonstrate the impact sport can have on a person's life.
(PRWEB) March 22, 2012
Twenty young people from London 2012's International Inspiration programme have been given the opportunity of a lifetime to carry the Olympic Flame.
One young person from each of the 20 countries that are part of International Inspiration, from Azerbaijan to Zambia, has been selected as a Torchbearer for the Olympic Torch Relay. The 20 young people will carry the flame in Nottinghamshire on 28th June.
Each International Inspiration Torchbearer was nominated and selected either for their dedication and commitment to inspiring children and young people in their communities through the power of sport, or for the personal challenges they have overcome in their lives.
Three of the inspiring young people running with the Torch are:

18-year-old Shaquille from Trinidad & Tobago – International Inspiration is working in Trinidad and Tobago to combat issues of gang violence and anti-social behaviour, and address a lack of opportunities for young people to develop important life skills. Shaquille is a shining example of a young man whose aspirations have been raised by sport. The programme has helped him to focus on both his school work and sporting activities, improve his organisational skills and enabled him to represent Trinidad and Tobago at the World Championships in Dragon Boat Racing in July 2011. His dream is to become an Olympic runner and a pilot.
19-year-old Pinky from India – Pinky is an International Inspiration Young Leader in her village of Barbaruah in North Eastern India.
Pinky runs sports session at her school for the children and young people of her migrant tea plucker community, encouraging them to participate actively in sport and talking to their parents about how sport can play a vital role in their child's education and social development.
She also advocates on pertinent social issues such as child marriage, alcoholism and adult literacy at community meetings. After becoming aware of the level of illiteracy in her community, Pinky is now working to re-start the night school in her community which shut down 18 years ago to teach adults basic literacy skills. She is a confident agent of change and has become an inspring role model for other children and young people in her community.
18-year-old Shariful from Bangladesh – Trained as a Community Swimming Instructor to teach life saving survival swimming skills to children and young people in flood-prone Bangladesh, Shariful is helping to reduce the number of children who drown each year. One of his 8 year old students went on to save the life of another drowning child after learning survival swimming techniques with Shariful. Having developed his leadership skills as a Community Swimming Instructor, Shariful now motivates and mobilizes his peers, encouraging them to engage in various activities that promote social change including actions to prevent child marriage and trafficking and to decrease school drop-out rates.
International Inspiration is bringing to life the promise made by the London 2012 bid team where they pledged to reach young people all around the world and connect them to the inspirational power of the Games so they are inspired to choose sport. The programme is delivered around the world by the British Council, UNICEF and UK Sport and it is enriching the lives of more than 12 million children in 20 countries around the world through high-quality and inclusive physical education, sport and play.
Seb Coe, Chair of the London Organising Committee of the Olympic and Paralympic Games (LOCOG) said: 'I'm thrilled that young people from around the world will also get the chance to run with the Olympic Flame. All 20 of the International Inspiration Torchbearers have been a real inspiration in their community and demonstrate the impact sport can have on a person's life. Their stories are truly inspirational and we look forward to welcoming them to the UK in just a few weeks time.'
The torchbearers from International Inspiration were picked to run on the 28 June as it's during National School Sports week and a few days after World Sport Day, when schools all over the UK will be celebrating the athletes and cultures of the world.
Notes to editors:
For further information please contact the London 2012 Press Office.
About International Inspiration
The International Inspiration programme is governed by an independent charitable foundation. International Inspiration is supported and funded by a mixture of organisations and Foundations, including Department for International Development (DFID), the British Council, the Premier League, UK Sport, UNICEF, the Department for Culture, Media and Sport, Comic Relief, the Laureus Sport for Good Foundation, the GE Foundation and individual donors.
The programme is also supported by the Youth Sport Trust, the British Olympic Association and the British Paralympic Association and individual donors.
To enable longer-term impact, the programme is developed jointly with the governments, National Olympic Committees and National Paralympic Committees, where appropriate, of participating countries. The programme is supported and welcomed by the International Olympic Committee and International Paralympic Committee.
The vision of International Inspiration is to use the power of sport to enrich the lives of millions of children and young people of all abilities in schools and communities across the world, particularly developing countries, by offering them the opportunity to access and participate in high-quality and inclusive sport, physical education and play. The programme is already changing the lives of young people in twenty countries - Azerbaijan, Brazil, Bangladesh, Egypt, Ethiopia, Ghana, Jordan, India, Indonesia, Malaysia, Mozambique, Nigeria, Pakistan, Palau, South Africa, Tanzania, Turkey, Trinidad and Tobago, Uganda and Zambia – plus the UK and has already enriched the lives of over 12 million children and young people.
International Inspiration was developed as a result of the commitment made by the London Bid team in Singapore in 2005 to 'reach young people all around the world and connect them to the inspirational power of the Games so they are inspired to choose sport'.
Through International Inspiration 300 schools in the UK will be partnered with 300 schools from across 20 countries. The school partnerships are managed by the British Council, which has a long history of linking schools internationally, working in partnership with the Youth Sport Trust, which utilises its expertise in developing teachers and young leaders through sport.
London 2012 Games partners:
The Worldwide Olympic Partners who support the London 2012 Olympic Games and the National Olympic Committees around the world are Coca-Cola, Acer, Atos, Dow, GE, McDonald's, Omega, Panasonic, Procter and Gamble, Samsung and Visa.
LOCOG has seven domestic Tier One Partners - adidas, BMW, BP, British Airways, BT, EDF and Lloyds TSB. There are seven domestic Tier Two Supporters – Adecco, ArcelorMittal, Cadbury, Cisco, Deloitte, Thomas Cook and UPS. There are now twenty-eight domestic Tier Three Suppliers and Providers – Aggreko, Airwave, Atkins, Boston Consulting Group, CBS Outdoor, Crystal CG, Eurostar, Freshfields Bruckhaus Deringer LLP, G4S, GSK, Gymnova, Heathrow Airport, Heineken UK, Holiday Inn, John Lewis, McCann Worldgroup, Mondo, NATURE VALLEY, Next, Nielsen, Populous, Rapiscan Systems, Rio Tinto, Technogym, Thames Water, Ticketmaster, Trebor and Westfield.
There is one domestic Tier One Paralympic Games-only Partner, Sainsbury's and two domestic Tier Three Paralympic Games-only Suppliers, Otto Bock and Panasonic. The London 2012 Paralympic Games also acknowledges the support of the National Lottery.