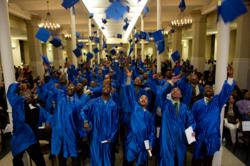 New York, NY (PRWEB) March 23, 2012
Best known for their work in keeping 150 miles of New York City's streets clean, more than 300 of the formerly homeless "men in blue" graduated from The Doe Fund's award-winning Ready, Willing & Able program at its graduation ceremony last night, held at the Church of St. Ignatius Loyola's Wallace Hall in Manhattan.
After the graduates – most of whom wore caps and gowns for the first time – received certificates and medals, they threw their caps into the air to signify the end of the ceremony and the beginning of their new lives.
Over 1000 friends, family, and Doe Fund supporters were on hand to mark the occasion, hearing the stories of transformation of two Ready, Willing & Able graduates.
Duane Fagan, a 2012 graduate who exchanged a life of incarceration and drug abuse for one of family and employment, said, "As I took each opportunity presented by Ready, Willing & Able, I began to see that, even though I had a couple of strikes against me, I wasn't out of the game."
William Brown, a 2000 graduate who, after graduating, returned to work at The Doe Fund as a Case Manager and then as an Associate Director, offered advice to 2012 graduates; "Always surround yourself with family and friends. Find something positive that you are passionate about and follow that dream. But most importantly, be good to yourself."
The ceremony also featured a sermon by Alfonso Wyatt, Associate Minister, Greater Allen Cathedral of New York, remarks by Seth Diamond, the Commissioner of NY Department of Homeless Services, and George T. McDonald, Founder & President of The Doe Fund, who led the graduates in chanting "I am somebody…I am somebody."
Commissioner Diamond addressed the men, and echoed the city's support of their hard work. "Believing in yourself might have been hard sometimes--" he said; "but there are 8.1 million New Yorkers out there who support you."
An elaborate gourmet reception catered by the Ready, Willing & Able Culinary Arts followed the ceremony. Culinary Arts is one of several occupational training tracks in which Ready, Willing & Able trainees can gain marketable skills that help them secure full-time employment. Others include pest control, commercial driving, energy efficient building maintenance, and many more.
About The Doe Fund
Headquartered in New York City, The Doe Fund is a $50 million, multi-disciplinary human services agency that helps 1,000 people every day to better their circumstances through programs providing paid work; workforce development and job placement; transitional, supportive, and permanent housing; drug testing and counseling; and comprehensive social and educational services. All once homeless or incarcerated, the "men in blue" of the organization's flagship program, Ready, Willing & Able, can be seen cleaning 150 miles of New York City streets every day, rain or shine. This paid transitional work is the first step they take toward self-sufficiency, and they complete Ready, Willing & Able with full-time, permanent employment, apartments of their own, and their sobriety. To learn more, visit http://www.doe.org or http://www.facebook.com/TheDoeFund, or follow @TheDoeFund on Twitter.