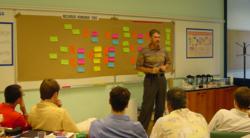 "This event is designed to provide attendees the information they need to improve product quality and reliability, shorten time-to-market, and reduce costs, and I'm honored to be among the distinguished presenters," said Montgomery
North Kingstown, Rhode Island (PRWEB) March 26, 2012
The Institute for Operational Excellence, the leading educational center providing training and innovative products for achieving Operational Excellence, announced today that one of its instructors, Lewis Montgomery, will be presenting at this year's Medical Design & Manufacturing Exposition and Conference in Chicago on June 21.
Montgomery will lead three sessions at the event, the Midwest's premiere conference program for research and development, design, engineering, manufacturing, and regulatory affairs professionals within the medical device manufacturing industry.

Session 1: Design for Operational Excellence. Montgomery will provide an executive level overview of Operational Excellence, explain the design principles to achieve it, and reveal how Operational Excellence positively impacts the bottom line.
Session 2: The Principles of Operational Excellence Simulation. This interactive simulation will replicate a factory producing different types of aircraft out of building blocks to demonstrate how the principles of Operational Excellence can be applied to drive business growth.
Session 3: Value Stream in Manufacturing for Operational Excellence. During this workshop, Montgomery will teach attendees how to design a value stream that utilizes lean flow to achieve Operational Excellence, and outline the beginning steps of an implementation plan.
"This event is designed to provide attendees the information they need to improve product quality and reliability, shorten time-to-market, and reduce costs, and I'm honored to be among the distinguished presenters," said Montgomery. "In the competitive medical device industry, manufacturers are looking for proven resources to help them thrive. My goal is to provide practical, actionable information so participants can walk away with the tools they need to get started – or continue – on their journey to Operational Excellence to realize business growth."
Montgomery's has over 30 years of lean experience, applying concepts from Deming, Quality Process Improvement, JIT concepts, education on reengineering, Demand Flow Technology and Reengineering Management, and Kaizen and 6Sigma within manufacturing operations in the automotive, industrial, electronic and aerospace sectors. Montgomery is a faculty member at the Institute for Operational Excellence and a Senior Consultant at Duggan Associates, where he works with clients on implementing lean within all industries and functional areas in businesses around the world, including Sikorsky, United Airlines, GKN, Parker Hannifin, and Pratt & Whitney.
More information and event registration for Medical Design & Manufacturing is available on the event's website.
About the Institute For Operational Excellence
The Institute for Operational Excellence is an advanced educational center providing training and education on creating and sustaining Operational Excellence. The mission of the Institute for Operational Excellence is to define Operational Excellence in a way that top executives and front line operators can understand. The Institute provides in-depth education on the principles of Operational Excellence and how to create it in any organization through formal education, innovative products, and conference keynoting.