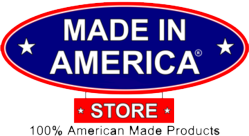 I believe in the American made way of things, with quality. Not the China throw away world
Elma, New York (PRWEB) March 24, 2012
Mark Andol, Owner of the Made In America Store, has been invited to be interviewed on Michael King's Radio Show, "Home Talk". The show mainly focuses on how the home improvement industry works and how people at home can learn to repair and renovate their own homes. Home Talk also talks about a broad range of topics that expand past home improvement including tools, common trends and news.
Michael Kings show, Home Talk, first aired back in 2004 and brought light to the home improvement industry and how it wasn't regulated in Louisiana. Contractors at the time weren't held to any standards and had no accountability and in the long run cost the consumers millions yearly, thus being the number one complaint from consumers. The basic format for the show was to bring awareness and advice to consumers looking to improve their home but weren't looking to get scammed along the way.
Michael's show, Home Talk, focuses on quality when it comes to home repairs and renovation, just like Mark Andol and the Made In America Store. Andol stresses that products these days from China are not made to last and when they do break they are just thrown away.
"I believe in the American made way of things, with quality. Not the China-throw away world" says Andol.
The Made In America Store also sells a wide range of home improvement tools and hardware. From the Channellock tool sets to the Hide-A-Horse Saw Horse. Each product at the Made In America Store isn't just 100% American made but must be made with quality.
Listen to the interview of Mark Andol on the Michael King's Show, Home Talk, at 6:40 Eastern Standard Time on Saturday March 24th by visiting http://www.gcnlive.com to stream the radio program live.
The Made In America Store is located at 900 Maple Road in Elma, New York and is committed to selling 100% American manufactured products. You can visit http://www.SaveOurCountryFirst.com for more information or shop our catalog of over 290 vendors that are devoted to producing USA made products. All US military personnel both active duty and retired receive a discount everyday. Consumers can also keep up to date news articles, events, photos and contests with Facebook, Twitter, Google+, Pinterest and Tumblr!