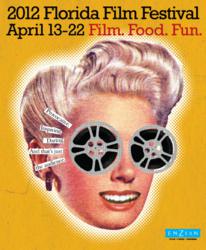 Maitland, Florida (PRWEB) March 22, 2012
The 2012 Florida Film Festival announced a stellar lineup of 168 films representing 31 countries. In a record-breaking year, the Festival received more entries (1700+) and is offering more films and World Premieres (28) than ever before.
Academy Award®-winning director, screenwriter, and producer Barry Levinson will present Liberty Heights, a humorous and touching drama that captures the spirit of change in Baltimore circa 1954 on Saturday, April 21 at Enzian. His lengthy list of credits includes Rain Man (Best Director Academy Award®), Bugsy, And Justice for All, Diner, Avalon, Wag the Dog, The Natural, Good Morning Vietnam, and HBO's You Don't Know Jack. Levinson will engage the audience with a live Q&A following the film.
Foodies will unite on Saturday, April 14 for TASTE & PRESENTATION: THE DIGITAL DISH, a one-of-a-kind discussion on books, blogs, television, and film, provided by culinary superstars Marcel Vigneron (Syfy Network's Marcel's Quantum Kitchen, Bravo's Top Chef), Chad J. Galiano, Gui Alinat, Jeff Potter, and Martha Hall Foose. These food connoisseurs will discuss everything from fame and chef brands to how to stand out amongst thousands of foodie bloggers. Devour the latest scoop on current topics in the food world and savor tasty treats prepared by the Enzian kitchen. The celebration of food continues with the Saturday Evening Feast. Winter Park's own renowned Chef Brandon McGlamery will prepare an unforgettable meal at Luma on Park Ave. This exclusive, upscale event is a once-in-a-lifetime opportunity for any foodie. Seating is extremely limited. Dine with special guests from the Taste & Presentation food forum including Marcel Vigneron.
Emmy® Award-winning filmmaker Sylvia Caminer and mega-fan turned executive producer Melanie Lentz-Janney bring fans face-to-face with rock idol Rick Springfield. AN AFFAIR OF THE HEART celebrates its World Premiere featuring a live appearance and Q&A with this Grammy® Award-winning musician, songwriter, actor, and New York Times best-selling author on Thursday, April 19.
The Festival opens with Orlando production RENEE. Director Nathan Frankowski and other special guests will be on hand for a live Q&A on Friday, April 13, 7PM. Also that evening, the Opening Night Party kicks off at Enzian. Jam to the tunes of The Mud Flappers and dine on the best of local cuisine. Top local chefs serve up mouthwatering dishes from Eden Bar, The Ravenous Pig, White Wolf Café, K Restaurant, Black Bean Deli, Hyatt Regency Grand Cypress, and Sushi Pop!
The 2012 Festival, sponsored by Full Sail University, runs April 13-22 in Maitland, Winter Park, and Winter Garden. Venues include Enzian, Regal Winter Park Village 20,
Eden Bar, Central Park in Winter Park, and Garden Theatre in Winter Garden.
The complete schedule of films and events is officially launched and available online at
http://www.FloridaFilmFestival.com. A free downloadable guide is available online and can also be accessed via smartphones.
To purchase Festival passes and ticket packages, visit http://www.FloridaFilmFestival.com. Festival pass holders gain access to all regular films. Ticket package holders can redeem film vouchers for individual film tickets before they are available to the public. Early redemption occurs until Saturday, March 24. Individual film tickets go on sale to the general public on Sunday, March 25. Ticket prices start at $10.
About the Florida Film Festival:
The Florida Film Festival is the premier showcase in Central Florida for American independent and international film. Celebrating its 21st anniversary, the Festival debuted in 1992 and is a core program of ENZIAN, a nonprofit cultural organization founded in 1985. ENZIAN and the Florida Film Festival have served more than 1.5 million guests and hosted hundreds of notable celebrities including Paul Newman, Christopher Walken, Oliver Stone, Glenn Close, John Waters, Emma Stone, Campbell Scott, James Caan, Ed Burns, Jason Lee, Gena Rowlands, William H. Macy, Jon Voight, and Edward James Olmos. This year's Festival features a record-breaking 168 films representing 31 countries and runs April 13-22. The Festival is funded in part by national and local businesses including Primary Sponsor Full Sail University and receives support from United Arts of Central Florida and the State of Florida, Department of the State, Division of Cultural Affairs, the Florida Council on Arts and Culture, National Endowment for the Arts, and Academy of Motion Picture Arts & Sciences. In addition, this project is funded in part by Orange County Government through the Arts & Cultural Affairs Program.
For additional information:
On-line: http://www.FloridaFilmFestival.com
Facebook: http://www.facebook.com/floridafilmfestival
Twitter: @FloridaFilmFest
About Enzian:
Enzian is Central Florida's only full-time, not-for-profit cinema for first-run independent and international films, classic revivals, documentary features, and select family entertainment. Enzian, a member-supported organization serving the community for 27 years, is home to the internationally recognized Florida Film Festival and the Eden Bar.
For additional information:
On-line: http://www.Enzian.org
Phone: (407) 629-1088
Facebook: http://www.Facebook.com/EnzianTheater
Twitter: @EnzianTheater
About Full Sail University:
Full Sail University is an award-winning educational leader for those pursuing careers in the entertainment and media industry. Founded in 1979, Full Sail has been recognized as one of the Top Five Game Degree Programs by Electronic Gaming Monthly, one of the Best Music Programs by Rolling Stone Magazine, and one of the Best Film Programs by UNleashed Magazine. In 2011, Full Sail received the "21st Century Best Practices in Distance Learning Award" from the United States Distance Learning Association, was named the "School/College of the Year" by the Florida Association of Postsecondary Schools and Colleges, and was recognized as one of the Top 100 Social Media Colleges by Studentadvisor.com.
Full Sail offers on-campus and online Master's, Bachelor's, and Associate's degree programs in areas related to animation, art business, education, graphic design, film, marketing, web development, music, recording arts, sports, and video games. Full Sail graduate credits include work on OSCAR®, Emmy®, GRAMMY®, ADDY®, MTV Video Music Award, and Spike Video Game Award nominated and winning projects.
For additional information:
http://www.fullsail.edu
http://www.twitter.com/fullsail
http://www.facebook.com/fullsailuniversity