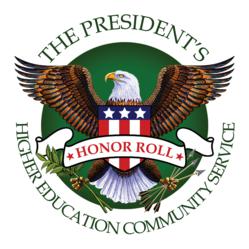 Boston, MA (PRWEB) March 22, 2012
Suffolk University has been named to the 2012 President's Higher Education Community Service Honor Roll with Distinction for its work in service-learning efforts in Boston, the nation and abroad.
The distinction is an indication that Suffolk University displays a strong institutional commitment to service and has formed compelling partnerships that produce measurable results in the community.
"This honor serves as a validation of our commitment to community and service," said Suffolk University President James McCarthy. "We applaud the efforts of our students, who contribute more than thirty-thousand hours to community service projects each year, and our staff members, who have created volunteer opportunities by building partnerships with more than fifty community-based organizations."
The Suffolk University community engages in service work through the efforts of Suffolk's Organization for Uplifting Lives through Service (S.O.U.L.S.), the Law School's clinical programs and the Rappaport Center for Law and Public Service.
The University helps students establish an ethic of service by finding service opportunities that enhance classroom learning through practical community experience. These opportunities help students develop a greater understanding of social justice and advocacy, achieve a sense of personal growth, and discover opportunities for leadership development. More than 1,800 students engaged in service learning in the 2010-2011 academic year.
The University recently sponsored 10 Alternative Spring Break trips, through which 130 students engaged in environmental, LGBTQ, Habitat for Humanity, and youth service programs across the country. Next up is the 15th annual Service Day, when more than 200 students, faculty and staff will volunteer at agencies throughout the local Boston area.
Ongoing projects include Jumpstart, a literacy program for preschool children; a long-term partnership with the Eliot elementary school, providing meals for the homeless and hungry through Supper Clubs; Saturdays of Service; and the Prison Book Program.
The Law School's clinical law programs offer students opportunities to learn about the real practice of law while providing essential services to a population that is largely underserved by the legal profession.
The University has been named to the honor roll for three years running, achieving the honor with distinction for the first time this year.
Institutions such as Suffolk University "are creating the next generation of leaders by challenging students to tackle tough issues and create positive impacts in the community," said Robert Velasco, Acting CEO of Corporation for National and Community Service, which oversees the Honor Roll in collaboration with the U.S. Departments of Education and Housing and Urban Development, Campus Compact, and the American Council on Education.
"We applaud the Honor Roll schools, their faculty and students for their commitment to make service a priority in and out of the classroom. Together, service and learning increase civic engagement while fostering social innovation among students, empowering them to solve challenges within their communities," said Velasco
The President's Higher Education Community Service Honor Roll recognizes higher education institutions that reflect the values of exemplary community service and achieve meaningful outcomes in their communities. Inspired by the thousands of college students -- including Suffolk University students -- who traveled across the country to support relief efforts along the Gulf Coast after Hurricane Katrina, the initiative celebrates the transformative power and volunteer spirit that exists within the higher education community.
-----
Suffolk University, located in historic downtown Boston, with an international campus in Madrid, is a comprehensive global institution distinguished by the teaching and the intellectual contributions of its faculty. Suffolk University offers a wide range of undergraduate and graduate programs in more than 90 areas of study. Its mission is to provide access to excellence in higher education to students of all ages and backgrounds, with strong emphasis on diversity.