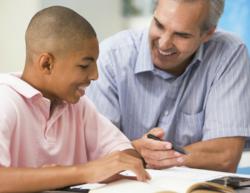 Overcoming our stereotypes and our judgments of others is the biggest barrier to creating positive relationships.
Eugene, OR (PRWEB) March 28, 2012
"Creating positive relationships with young people is at the heart of the work every professional does with youth in our schools and communities," says Steven Ungerleider, PhD., founding editor of The Prevention Researcher. "But teachers and counselors often find that creating positive connections with youth from different cultures and social class backgrounds can be challenging."
With more 20 years of involvement with youth in a variety of organizational settings, outpatient youth therapist Sheila Kapur, LCSW, J.D., has had professional and personal experiences that have given her a unique perspective on creating positive relationships with diverse youth.
In an article published in The Prevention Researcher, Ms. Kapur notes that multicultural competence is extremely important in her work with young people. She says "multicultural competence is knowing the values, beliefs, and customs of a group and being able to use that knowledge to interact with them in appropriate, respectful, and therapeutic ways."
"Knowing a person's cultural heritage also helps me to know what strengths they might have and what obstacles they may have overcome in their history and in their family. Understanding this and knowing that a client or their family has different values than I have, I am able to interact with them in a nonjudgmental way, build rapport, and keep that rapport throughout our interaction."
Ms. Kapur says that "as important as multiculturalism is, the class issue and understanding the enormous disparities of income that exist between the rich and the poor is also important. Many of my lower income clients live in "developing world" conditions in their neighborhoods, and that was quite a shock and a "wake up call" to me in two respects, (1) how far behind we are still in America in overcoming our historical legacy of slavery with African Americans, and (2) how we ignore the negative impact of capitalism on the poor."
Social class plays a role in the lives of the youth Ms. Kapur works with as well. She says "one of the things that strikes me in my work with lower income youth is how little class mobility, or moving from a lower class to a higher class, effects their lives. I grew up with the belief that the American dream of living safe and well is available to everyone who lives in America, especially those in the lower income class. And, I learned that the American dream means that the same opportunities are available to everyone here with hard work."
"What I am learning from my experiences in the community with lower income families" says Ms. Kapur, "is that many of these families have been in the lower income class for generations even with hard work and with the desire to change their lives. Many of these families feel hostage to a system of poor education, unsafe neighborhoods and a lack of available resources to change and better their own lives and the lives of their children. This saddens me and makes me question whether the American dream is a convenient myth that prevents us, as a society, from looking at deeper systemic problems that perpetuate inequality and lay the burden of change on those who are least capable of making it."
Ms. Kapur suggests five specific ways professionals can cultivate positive relationships with the diverse teens: (1) Be nonjudgmental, (2) Work on building trust and breaking stereotypes, (3) Distinguish between formal education and the education of our experiences, (4) Continue to do your homework and be a lifelong learner, (5) Find ways to connect to your clients with "heroes" and uplifting stories that they can relate to.
Among key obstacles in creating positive relationships with diverse youth, Ms. Kapur says "one of the biggest barriers is the class segregation in the U.S. It is easy when people live so remotely from one another to form stereotypes that are shaped by the media. Overcoming our stereotypes and our judgments of others is the biggest barrier to creating positive relationships."
For a free copy of the complete article on "Creating Positive Relationships with Diverse Youth", link directly to The Prevention Researcher or http://www.tpronline.org
About The Prevention Researcher
Founded in 1994, The Prevention Researcher is published by the non-profit, Integrated Research Services in Eugene, Oregon. The quarterly journal focuses on successful adolescent development and serves professionals who work with young people in a variety of organizational settings.
Each issue of The Prevention Researcher covers a single topic, presenting the latest adolescent behavioral research and findings on significant issues facing today's youth. The journal provides information about programs that create supportive environments for youth, strategies for preventing problems affecting adolescents, and resources that help youth-serving professionals.