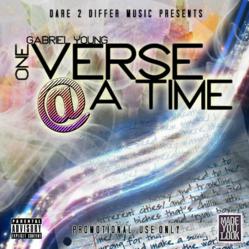 Miami, FL (PRWEB) March 22, 2012
Hip hop artist Gabriel Young recently released his [mixtape "One Verse At A Time." Coast 2 Coast Mixtapes presents the project in association with Dare 2 Differ Music, and it is now available for free download. "One Verse At A Time" features a number of Young's freestyles over well-known tracks such as "She Will," "Ima Boss," "The Motto," and "Rack City."
Gabriel Young has had music on the mind almost his whole life. Young is inspired by all hip hop music, but lists some of his influences as Dolla, Lil Wayne, T.I., UGK, Rick Ross, and Juelz Santana. He also is a huge fan of '90s rap and underground hip hop. He started recording in 2007 when he was brought into a studio by another rapper who had heard Young freestyling at a local artist show. Young founded Dare 2 Differ Music Group in 2010—a four-man rap group and label based out of Sarasota, FL.
"One Verse At A Time" was recorded in Fall 2011, so most of the songs reflect on Young's summertime experiences. His verses over industry beats reflect themes of women, smoking, and generally living life. The project serves as a lead up to his full-length, original mixtape, entitled "Era: 95." Young promises that the project will give his fans a firsthand look into who Gabriel Young really is.
"One Verse At A Time" is available for free streaming and download at http://coast2coastmixtapes.com/mixtapes/mixtapedetail.aspx/gabriel-young-one-verse-at-a-time.