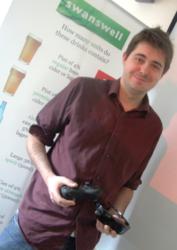 Swanswell believes virtual therapies such as this can play a big part in the treatment and recovery of people affected by substance misuse in the future, helping them change and be happy in innovative ways
(PRWEB UK) 23 March 2012
A Swanswell-led paper investigating how virtual therapies could help people overcome drug and alcohol misuse has received national recognition after picking up an academic prize.
'The use of computer game technology in the treatment of addiction'1 was submitted to the Interactive Technologies and Games: Education, Health and Disability conference (ITAG 2011) at Nottingham Trent University last November.
It's written by Liam North – a Knowledge Transfer Partnership Associate working with Swanswell and the University of Reading to explore the use of computer-based games to help in the development of coping skills and to reduce craving for illicit drugs and alcohol.
The paper highlights the outcomes of various studies and the national charity's own research with people affected by substance misuse, as well as details of interactive software being developed by the team to provide more innovative treatment in existing services.
It was submitted to the ITAG 2011 conference as part of a demonstration of the computer game-based intervention and has just been awarded the 'best student paper' prize, after being judged by a committee of experts.
The technology involves a client using a virtual reality headset to access a number of computer-generated scenes that allow them to make decisions, which lead to more events as the scene unfolds.
People using the technology can then 'move' between the scenes, which include a domestic scene with drug and alcohol-related cues, a street scene featuring phone boxes, discarded drink cans and drug paraphernalia, and a bar scene.
Liam said: 'There's lots of promising evidence out there for the use of computer game-based therapies, so we're delighted that our paper has been recognised by academic experts.
'Swanswell believes virtual therapies such as this can play a big part in the treatment and recovery of people affected by substance misuse in the future, helping them change and be happy in innovative ways.'
Dr Faustina Hwang from the University of Reading, one of the Academic Supervisors for the project, said: 'It's a fantastic achievement for Liam to win the best student paper award and we are delighted that his work has been recognised by the conference in this way.
'There is real potential for this type of technology to change the way that drug and alcohol treatment is delivered, so we're very excited about where the work is going and the benefits it could bring to clients.'