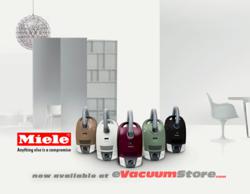 The technology and efficiency that comes with a Miele appliance is unsurpassed
Quincy, MA (PRWEB) March 24, 2012
eVacuumStore.com, the leading online retailer of vacuum cleaners, parts and accessories recently expanded with the addition of a premium line of Miele vacuum cleaners. The online store continues to grow rapidly with the addition of dozens of new brands to their online catalogue. The site will now feature the complete Miele line including canister vacuums, uprights and stick vacuums as well as all of the bags, filters, parts and accessories.
"We are thrilled to finally be able to offer such a quality machine to our customers," said Bob Evans, senior customer care specialist at eVacuumStore, "Miele offers a durable and powerful vacuum cleaner that provides the user with years and years of high powered cleaning efficiency in a quality, durable machine. The technology and efficiency that comes with a Miele appliance is unsurpassed."
Miele offers a diverse line of German-engineered vacuum cleaners that utilize powerful suction and sealed filtration to rid the home of dust, dirt and allergens and alleviate even the worst asthma symptoms. The new Miele S6 series will be available for purchase at eVacuumStore including the Red Velvet, Topaz, Onyx and Quartz models which offer a green cleaning solution in a unit that is built to last for over 20 years of use. The full Miele vacuum cleaner line bears the Good Housekeeping Green seal of approval which offers to replace or refund the price of the product within 2 years of purchase in addition to the manufacturer's warranty.
Miele has also received attention recently due to the high rating of the S7 series Twist upright vacuum cleaner on Consumer Reports. The S7210 Twist offers a powerful 1200 watt Vortex motor that optimizes suction while cleaning and features a swiveling neck for enhanced maneuverability while cleaning around and under furniture.
"What makes Miele different from other vacuum cleaners is the amount of precision and quality assurance that goes into the design of each model" explained Joe Turner, a repair specialist at eVacuumStore, "We've been repairing machines of all brands for years and we very rarely find any issues with Miele vacuum cleaners; this is because they are designed to last the user for many years, unlike the less expensive vacuums found in department stores."
Since its inception in the early 2000s, eVacuumStore.com has become one of the largest online retailers of vacuum cleaners, repair parts and accessories. The site was built around customer service and the idea of offering the detailed parts diagrams and schematics that were once only available to official warranty centers to the consumer to fuel Do-It-Yourself vacuum cleaner repairs.
eVacuumStore offers highly knowledgeable customer care specialists as well as live technical support for all brands of cleaning products. The experienced staff are capable of matching each customer to the appropriate machine tailored to his or her unique needs based on the size and cleaning surfaces found in their home. The entire Miele line is available for purchase at eVacuumStore with free shipping and no sales tax on all orders outside of Massachusetts. For more information visit eVacuumStore.com