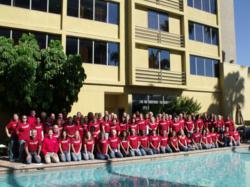 "VectorLearning at its core is a company dedicated to its team members and to creating a strong, productive work environment." Tom Wallace, VectorLearning CEO
Tampa, FL (PRWEB) March 23, 2012
VectorLearning, comprised of premier online continuing education and corporate training providers RedVector and Care2Learn, recently joined an elite list of local businesses chosen as finalists for the Tampa Bay Business Journal 2012 Best Places to Work. This marks the fifth time VectorLearning has been a finalist for the award; the company earned previous nominations in 2005, 2006, 2009 and 2011.
Fifty-five companies were selected following an internal review process, during which employees from each company were asked to complete an anonymous 37-question online survey designed to measure "10 key engagement categories focusing on items including team effectiveness, trust in senior leaders, feeling valued, manager effectiveness, compensation and benefits."
The top three companies in each size category—Nearly Big, Big, Bigger and Biggest—will be honored during a ceremony held at Tampa's Lowry Park Zoo on April 19. The company that scores highest in all four categories will be named the Best Place to Work in Tampa Bay. VectorLearning, which provides healthcare online CE as well as green building courses and online CE for design and construction professionals, ranked in the "Bigger" size category (51-100 employees), along with 14 other local companies.
"What an honor," says VectorLearning CEO Tom Wallace. "Especially in today's difficult economic times, employees want and deserve to feel secure in the workplace. VectorLearning at its core is a company dedicated to its team members and to creating a strong, productive work environment where every individual can grow and excel. I'm proud that we are setting an example for the Tampa Bay area and beyond."
For a complete list of the Tampa Bay Business Journal 2012 Best Places to Work finalists, visit http://www.bizjournals.com/tampabay/blog/morning-edition/2012/03/2012-best-places-to-work-finalists-named.html.
About VectorLearning
VectorLearning sets the standard for excellence in online continuing education and training for the AEC and post-acute care industries. Through our award-winning Learning Management System (LMS) we offer individual courses as well as large-scale corporate training solutions for AEC firms and healthcare organizations featuring customizable and easily accessible online universities with a full range of tracking and reporting features. With an online library exceeding 1,400 courses authored by more than 200 subject matter experts, VectorLearning serves more than 300,000 working professionals in all 50 states. The recipient of numerous community honors and industry awards, VectorLearning was founded in 1999 and is headquartered in Tampa, Florida. For further information call 1-866-546-1212 or visit http://www.VectorLearning.com.