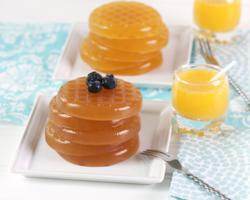 "The recent trend toward breakfast-themed cocktails really revved up the creative engines here at Jelly Shot Test Kitchen," says Michelle Palm.
Minneapolis, Minnesota (PRWEB) March 24, 2012
With the advent of International Waffle Day (March 25th), good people the world over contemplate one soul-searing question – do you know where your waffle is? Sure, they may be on the breakfast table, but how does one celebrate waffles after 5 p.m.?
Luckily, Jelly Shot Test Kitchen doesn't waffle when it comes to … well, waffles. This week, Jelly Shot Test Kitchen released two waffle-themed jelly shot recipes on its popular blog (http://jelly-shot-test-kitchen.blogspot.com/). Yes, that's right, waffle-flavored, vodka-infused gelatin, shaped like a waffle. "I've long been a waffle lover, as well as a supporter of alternative breakfast platforms" said Michelle Palm, founder of the Jelly Shot Test Kitchen, "and the recent trend toward breakfast-themed cocktails really revved up the creative engines here at the Kitchen."
Jelly Shot Test Kitchen's Classic and Blueberry Waffle Jelly Shot recipes are based on easy-to-find ingredients, including orange juice, vodka, and that ubiquitous waffle topper, maple syrup, combined with plain gelatin powder. The jelly shots' dimpled good looks come courtesy of a metal ice cream sandwich pan, an inexpensive item available at many kitchen stores. "We focus on using easily sourced ingredients and tools," said Palm. "Our readers come from all over the country, and all over the globe, so simplicity is key. It's important to us that our jelly shots are a quick, easy way for folks to add a bit of fun and frolic to festivities of any kind, for Waffle Day and beyond."
Full recipes and instructions for the waffle-y treats are available on the Jelly Shot Test Kitchen blog, as are over 50 original recipes for high-octane (i.e. alcoholic) and non-alcoholic gelatin treats. Palm's self-titled recipe book, "Jelly Shot Test Kitchen, Jelling Classic Cocktails, One Drink at a Time" was released by Running Press in May 2011 and is currently in its second printing. The book contains over 60 jelly shot recipes based on classic cocktails, such as the Gin & Tonic, Manhattan, and Negroni. Palm notes that while the book was classic cocktail focused, the current blog content is weighted toward contemporary, fun gelatin creations. The blog and book have received national attention, including the Wall Street Journal, Vogue, Every Day with Rachael Ray magazine, Cosmopolitan UK, and the Martha Stewart Wedding Blog.