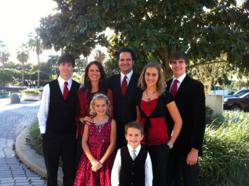 I knew the key to super health was to replace the poor quality meals Americans eat every day with superfood meals that would give their bodies everything they needed to thrive." KC Craichy, Founder & CEO, Living Fuel
Tampa, FL (PRWEB) March 25, 2012
Living Fuel Founders KC and Monica Craichy introduced their flagship product, LivingFuel SuperGreens, on March 25, 2002. KC developed SuperGreens as a result of years of research to help Monica deal with serious health issues. Even though she looked the model of health on the outside as a former Miss Florida and Miss Florida USA, Monica's experiences of anxiety, fear, panic and depression and the futility of conventional medical approaches to solve her problems led KC to find an answer. Through years of research and trial and error, Monica regained her health and vibrancy and has been medication free for more than 17 years.
"I was deficient in every important area of health," Monica said. "Superfood nutrition had a huge impact on my health and it's been exciting these past 10 years to see the lives of so many people changed through LivingFuel products."
KC wrestled with challenges of his own as an overweight child and discovered that proper nutrition was the key to maximum performance and metabolism. He developed LivingFuel SuperGreens as a no-nonsense strategy to help people of any look, feel and perform better.
"I knew the key to super health was to replace the poor quality meals Americans eat every day with superfood meals that would give their bodies everything they needed to thrive," KC Craichy said. "LivingFuel is nutrition you can feel!"
KC didn't stop with SuperGreens in 2002. He developed LivingFuel SuperBerry two years later and has gone on to develop an amazing line of natural health products that leads the nutrition world in purity, potency, quality and truth. Being the Leader in Superfood Nutrition means producing the healthiest and most complete foods available anywhere in the world.
LivingFuel products include three whole food meal replacements that have more than 60 all-natural ingredients the body needs to achieve super health, including the highest Total ORACfn value of any foods in the world. They are LivingFuel SuperGreens (82,800 Total ORACfn per serving), LivingFuel SuperBerry® Original (98,700 Total ORACfn per serving), and LivingFuel SuperBerry® Ultimate (119,200 Total ORACfn per serving).
The protein and fiber foundation for LivingFuel supersmoothies is LivingProtein®, a complete plant protein crafted from clean and healthy non-GMO brown rice and yellow pea with fiber, enzymes, probiotics, amino acids and antioxidants (18,900 Total ORACfn per serving).
Tens of thousands of people across the country rave about the taste of LivingFuel's CocoChia® sustained energy snack products: including CocoChia® Snack Mix and CocoChia Sustained Energy Bars (Original and Double Chocolate). CocoChia® Snack Mix is a delicious blend of shredded raw organic coconut and raw whole chia seeds – a remarkably healthy and tasty low-glycemic snack fuel. CocoChia® Sustained Energy Bars are made with smart fats and fiber crafted with raw organic coconut, raw chia seeks, and organic almond butter. The Original Bar is hand-dipped in a delicious, sugar-free, organic dark chocolate coating to make the amazing taste of the CocoChia® Double Chocolate Bars.
TheraSweet™ is LivingFuel's answer to artificial sweeteners. It contains all-natural xylitol, tagotose and glycine with micro-encapsulated probiotics. TheraSweet™ was designed to be a safe and healthy alternative to the artificial sweeteners on the market today. It tastes and looks like sugar, but without any of the bitter aftertaste of conventional sweeteners. And unlike artificial sweeteners, LivingFuel's is completely natural.
LivingFuel also has two SuperEssentials™ products - SuperEssentials™ Omega 3EDA+ and SuperEssentials™ Aminos. SuperEssentials™ Omega is the purest and most powerful fish oil on the market. It is a powerful antioxidant essential fatty acids complex that includes fish oil, cod liver oil and borage seed oil with full-spectrum Vitamin E, Vitamin A & Vitamin D with Astaxanthin. SuperEssentials™ Aminos is LivingFuel's newest product and is the most powerful free-form essential amino acids supplement available today. It is quickly absorbed by the body to help boost energy levels, increase mental clarity and maximize muscle growth and performance.
If you love coffee, you will LOVE LivingFuel's SuperCoffee™ Rx (Caffeinated and Caffeine Free). It is the ultimate gourmet coffee experience with the rich, tantalizing blend of organic Arabica coffee and organic black tea that serves up more antioxidants than any other brand of coffee.
You can learn more about LivingFuel products at http://www.livingfuel.com. We invite you to visit today and learn more about the "high impact health" of the best superfood nutrition on earth!
KC Craichy is the bestselling author of Super Health: 7 Golden Keys to Unlock Lifelong Vitality and The Super Health Diet: The Last Diet You Will Ever Need! KC Is also the Founder and CEO of Living Fuel, Inc.—The Leader in Superfood Nutrition. He is a health advocate, researcher, and recognized expert on natural health and performance nutrition. His extensive study of leading-edge health research and collaborative work with top medical and nutritional practitioners and researchers to solve his wife Monica's health problems—anxiety, depression, and suicidal thoughts—along with the grace of God, led him to the answers for Monica's healing and to the founding of Living Fuel, Inc. As a result of overcoming this health crisis, KC and Monica have helped numerous people become overcomers in their own health situations. Together they are now cohosts of the popular Internet TV program called Living Fuel TV.
KC is committed to changing lives through multimedia, super health lifestyle education combined with super healthy, high impact superfoods. He also serves on the Nutrition Advisory Board for Titleist Performance Institute as well as on the Clinical Nutrition Review Board (the certifying body of the International and American Association of Clinical Nutrition). A frequent natural health and performance nutrition guest on various TV and radio programs as well as a frequent contributor to national magazines and blogs, KC lives in Orlando, Florida, with his wife, Monica, and their five children.