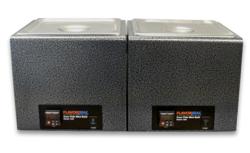 Avon, OH (PRWEB) March 24, 2012
As part of their complete line of sous vide equipment, supplies and support for restaurants and commissaries, Flavorseal now offers the Sous Vide Mini Bath – a smaller version of their larger Sous Vide water baths designed for the commercial kitchen.
"Customers asked us for multiple smaller units that would fit compactly within limited counter space so they could set each unit to a different temperature," said Ken Hynes, VP, Foodservice Division at Flavorseal. "The Sous Vide Mini Bath is designed to meet that need."
The Sous Vide Mini Bath has the same sturdy all-in-one construction and precise digital controls of the larger sous vide water baths from Flavorseal, making them ideal for the busy professional kitchen. The stainless steel interior is easy to clean and maintain. Because the unit is insulated, it is able to maintain the set temperature to .1˚F even when the lid is frequently removed, making it ideal for retherming as well as sous vide cooking.
The Sous Vide Mini Baths are designed to fit flush against each other so multiple units can be lined up on the counter with little wasted space, making it convenient for the chef to maintain different cooking temperatures required for cooking and holding different foods.
Flavorseal offers a complete sous vide package for commercial kitchens, from packaging, equipment and accessories to HACCP assistance and employee training. For more information on Flavorseal's complete sous vide system, see the Sous Vide products page on the Flavorseal website
Flavorseal specializes in packaging systems and products for the food processing, foodservice, and retail markets, providing customized solutions that improve ways to package, prepare and store food. The Flavorseal manufacturing facility is an American Institute of Baking (AIB) certified operation. For more information, visit us at http://www.flavorseal.com or email info(at)flavorseal(dot)com. We are located at 35179 Avon Commerce Parkway, Avon, OH 44011. Phone: 440-937-3900 or toll free: 866-769-1500; Fax: 440-937-3901.