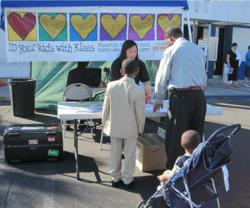 (PRWEB) March 26, 2012
"Safety and security are no accidents," declared Sandie Borthwick, Marketing Manager for Capital Insurance Group (CIG). "That's why we are declaring May as Community Safety Saturday Month! We are partnering with our independent Insurance Advisors in Turlock, Chico, and Rancho Cordova, CA, as well as CIG's value-added membership partner, The Protector Network®, to hold three fun-packed family safety events during the month," Borthwick added.
CIG is dedicated to community safety and creates fun, interactive events that attract hundreds of local families. CIG teams up with local insurance agencies and non-profit organizations to host each event. In addition to receiving valuable safety information for the entire family, parents are able to proactively increase their children's safety awareness through several important on-site activities. Here are just a few of the highlights of this important family event:

The KlaasKids Foundation hosts the KlaasKids Print-A-Thon, which provides Digital Photo ID & Fingerprint Kits for every child. Parents receive a free DNA Collection Kit, child safety tips, and a 9-point plan on what to do if your child disappears.
California Highway Patrol and other law enforcement organizations conduct a free Child Safety/Booster Seat inspection station.
Local Fire Departments bring a 25' fire engine and hand out fire safety coloring books, and other fire and life safety information.
American Red Cross provides information about child and adult emergency preparedness.
Local police and sheriff organizations provide valuable safety information.
Live radio remotes
Lots of prizes and free giveaways
Sandie Borthwick, Marketing Manager for CIG, remarks, "We are very proud to partner with community safety-oriented Public Service and Insurance Agencies. Community Safety Saturday was born from our concern and commitment to keep children and families safe. This is what CIG is all about - we are a company with heart."
There are three Community Safety Saturday events coming up in May 2012:
May 5, 2012 – Titus & Associates Insurance, 2068 Talbert, Chico, California
May 12, 2012 – GDI Insurance, Turlock, 801 Geer Road, Turlock, California
May 19, 2012 – Proven Insurance, 2721 Citrus Road, Suite B, Rancho Cordova, California
For updates and information about a Community Safety Saturday near you, go to http://www.ciginsurance.com, and follow us on Facebook and Twitter.