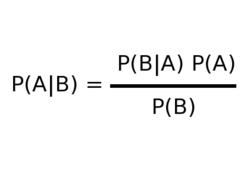 Initial Beliefs + Recent Objective Data = A New and Improved Belief.
New York, New York (PRWEB) March 22, 2012
George Maciunas / Fluxus Foundation is pleased to present the exhibition, The Three Eminent and Enigmatic, in its newly renovated exhibition space at 454 West 19th St.
The new science and experimental philosophy of Thomas Bayes, Alan Turing, and George Maciunas share a fundamental unity in seeking the nodes, connecting lines, and points of intersection in a complex mass of relationships. As designers of design, these visionaries sought to diagrammatically organize the factual clusters of the universe.
Thomas Bayes, 18th century English mathematician and Nonconformist Presbyterian minister, developed an elegant statistical theory which provided a versatile way of optimizing one's suppositions to reach an accurate prediction. Analogous to human learning processes, the profound power of Bayes' Theorem lies in its methodology which can create models that learn and adapt to new information. Though historically regarded as a degenerate form of pseudoscience, Bayes' Theorem has overcome its history to be used in a universal range of applications including medical diagnosis, ecology, geology, computer science, artificial intelligence, machine learning, genetics, astrophysics, archaeology, psychometrics, education performance, sports modeling, and many more.
Bayes' Theorem was also used in the cryptoanalytic work of British mathematician, Alan Turing, to decipher the uncrackable Enigma code during World War II. Like Bayesian inference, Alan Turing developed a conceptual 'machine' with the aim to capture human thinking process. His Turing Machine has greatly contributed to the field of artificial intelligence and digital computing in this intersection between human learning and mechanistic processes.
The experimental works of Fluxus sage, George Maciunas, reflect the social and aesthetic culmination of these conceptual theories through his diagrammatic models of information processing. Geared towards utopian solutions, his "Learning Machine" sought to replace linear text-oriented knowledge transfer with a more efficient three-dimensional plan of knowledge. Maciunas' aesthetic of organization reflects an 'actus purus' of unfragmented knowledge.
In essence, these visionaries share the principle of Occam's razor, entia non sunt multiplicanda praeter necessitatem (entities should not be multiplied beyond necessity), in reducing complexity as structuring agents. As knowledge workers, Bayes, Turing, and Maciunas created 'universal machines' which reflect the intuitive connections between a model and its process.
"A man provided with paper, pencil, and rubber, and subject to strict discipline,
is in effect a universal machine." - Alan Turing
The Three Eminent and Enigmatic, organized and produced by Harry Stendhal, presents a conceptual web exhibition to showcase the brilliant theories of these three individuals. The exhibition is also complemented by three paintings of Maciunas from the 1950's, which may be regarded as the visual counterparts to Maciunas' research on Eastern chirography and western epistemological paradigms.
The exhibition opens on March 9 and continues through April 28, 2012.
George Maciunas / Fluxus Foundation Inc.
454 West 19th Street. New York, NY 10011
212.675.4392.
info (at) georgemaciunas (dot) com
http://www.georgemaciunasfoundation.org
*George Maciunas Foundation Inc. is exempt from Federal income tax under section 501 (c)(3) of the Internal Revenue Code.
*George Maciunas Foundation Inc. is qualified to receive tax deductible bequests, devises, transfers or gifts under section 2055, 2106 or 2522 of the Internal Revenue CodeFederal Tax Id Number: 26-3178359
*George Maciunas Foundation Inc. is a public charity