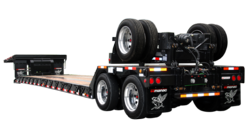 "Keith Limback, Manac U.S. General Sales Manager, said "The Mechanical Detachable Lowbed is often asked"
Freeport, PA (PRWEB) March 23, 2012
Manac Inc a North American leader in the design, manufacture and retail sales of heavy-duty semi trailers is launching the versatile Mechanical Detachable Lowbed at the Mid-America Trucking show in Louisville, KY, March 22 to 24.
Commenting on the news, Keith Limback, U.S. General Sales Manager, said "This is a product often asked from our customers and we are very pleased to launch the extendable configuration of this new product line at Mid America" This Detachable introduces very useful features such as removable galvanized outriggers, built-in toolbox storage and is 3-axle ready. Other features such as multiple coupler heights and anchor points are a standard. Operator safety has also been taken to another level with a built-in ladder for easy access.
This lowboy is a natural addition to the Manac product portfolio that will also be offered very competitively.
Manac offers the widest product line in the heavy-duty semi trailer industry for over-the-road, construction, forestry, and agriculture transportation. The company operates two plants in Missouri and the head office is located in Quebec, Canada.