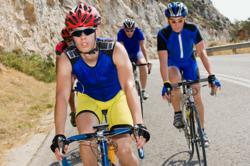 Our cycling club has been coming to Cabin Creekwood for quite a few years
Waynesboro, VA (PRWEB) March 23, 2012
The mountains of Central Virginia are a well-known bicycling destination for the serious rider, and Cabin Creekwood now offers ride information. Famous riders including Lance Armstrong and Greg LeMond challenged these mountains as part of the Tour DuPont. Every spring, riders from all over New England and Quebec descend on Cabin Creekwood to take advantage of the fully furnished mountain cabins, the peaceful, private setting, and the great riding opportunities.
Serious riders are always looking for challenges to increase their skills and endurance. Central Virginia provides many different degrees of difficulty to accommodate varying levels of riders. The highly skilled cyclist will appreciate the challenge of crossing Reeds Gap then cycling up into Wintergreen Resort. The more casual rider will enjoy the rolling hills of the Rockfish or Shenandoah Valleys. Additional loops incorporate sections of the Blue Ridge Parkway, Route 56 past Crabtree Falls, and back roads circling up through Stuarts Draft.
No matter which ride is chosen, the cyclist will be sure to enjoy the spectacular scenery that Virginia is known for. Overlooks from the Blue Ridge Parkway and Skyline Drive provide incredible views of both the Rockfish and the Shenandoah Valleys, as well as more of the mountain ranges. The Shenandoah Valley itself is well known for rolling farmland with the mountains in the background. And the Shenandoah National Park provides lots of opportunities to see wildlife in their natural habitat.
The staff at Cabin Creekwood is ready to help with advice about local rides or information about places to eat. They have a listing of great loop routes that was prepared by a cycling team, and with all the different roads in the area, cyclists can ride 5 or 6 days and be on different roads every day. Depending on how ambitious the cyclist is, rides can be as short as 20 miles or as long as 120.
To summarize the cycling experience at Cabin Creekwood, here is a comment from Shelley Lutz, a long-time guest and cyclist from Vermont. "Our cycling club has been coming to Cabin Creekwood for quite a few years. Stan and Debbie are gracious hosts. Their cabins are clean, neat and wonderful location to the Blue Ridge Parkway. The BRP offers some tremendous riding for road cyclists. If you do not feeling like riding the hills then you can ride in the valleys on either side of the parkway. The local roads are quiet from traffic and offer a huge variety in terrain for riding. If you want hills you can ride UP Wintergreen which was part of the Tour of DuPont and is wicked steep. lf you want flatter rides ride in the Shenandoah Valley which is like riding the Swiss Alps. There is some great hiking close by and the mountain biking is not bad either. Having no TV or phones really make it nice to get off the Merry-Go-Round that we all live in."
It's easy to get to Cabin Creekwood, located just outside of Waynesboro, VA. There are nine different cabins, ranging in size from one to three bedrooms. The cabins are all fully furnished and have full kitchens, so guests need only to bring along the basics – food, clothing, personal items, and of course, their bicycle.
Cabin Creekwood has been providing "Truly Restful Getaways" to families and individuals from all over the world since 1982. This family owned business prides itself on creating a peaceful experience that keeps guests coming back for more.
To find out more visit our website at http://www.cabincreekwood.com or give us a call toll free at 888-942-2246. We'll be happy to send you information on local rides.