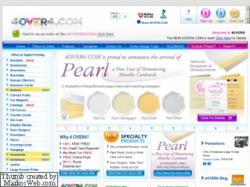 At 4OVER4.COM we have introduced a simple 6-step method for reprinting old orders made with the old website
Astoria, NY (PRWEB) March 22, 2012
Online printing company 4OVER4.COM has introduced a service that enables customers to access and reprint orders from the old 4OVER4 site. The service is accessible from the new 4OVER4.COM site and helps customers to simplify workflow for their printing jobs. 4OVER4.COM is an online printing service that provides digital and offset printing in the areas of postcard printing, custom labels printing, vinyl decal printing, booklet printing, business card printing, large format printing, vinyl banner printing, brochures printing, and many more custom printing applications.
To access and reprint orders from the old 4OVER4.COM website, customers can take advantage of this simple 6-step method as below:
Step 1 - Click on the link on the top left corner of the homepage or visit http://old.4over4.com/myeaccount.aspx
Step 2 - Log in to the system with registered email address and password
Step 3 - The list of old orders will now be visible; select order(s) to reprint; note old order number(s)
Step 4 - Return to the new site; select appropriate product and configure with Instant Price Calculator
Step 5 - Provide old order number(s) and proceed to order
Step 6 - Complete order process
This new functionality will make it possible for customers who made specific orders in the past to access those orders for review or reprint, simplifying their work and adding value for the customer.
"At 4OVER4.COM we have introduced a simple 6-step method for reprinting old orders made with the old website. We realize that our customers may want to access their old orders for reprinting or review and we have made them accessible with this new system. Now all our customers have to do is visit the new 4OVER4.COM website and click the link on the top left corner to access all their old files and reprint as they wish." says 4OVER4.COM Principal Taso Panagiotopoulos.
For more information about how to order reprints from the old 4OVER4.COM website, or for any update or inquiries, please visit http://www.4over4.com/printing/reprints, email support@4over4.com or call the 4OVER4.COM customer care line on 1-718-932-2700.
About 4OVER4.COM
Online printing company 4OVER4.COM, an NYC printing firm, is a green printing company that serves tens of thousands of clients nationally and whose printing New York facility began operations in 1999.4OVER4.COM provides unmatched technical and customer support and instant online pricing and ordering for full color printing services since 1999, 4OVER4.COM has offered free expert file review and free online proofs without any obligation to purchase. As a green printing company, we are strongly oriented towards sustainable environmental renewal, and we are happy to lead the way with environmentally and socially responsible printing practices and projects among national as well as New York Printers.