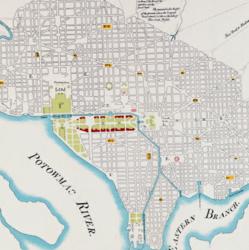 New York, NY (PRWEB) March 27, 2012
Washington, D.C., Philadelphia and Chicago are also gridded cities — and each designed a template different from New York's right angles, which accommodate real estate growth so well. Washington's wide boulevards and diagonals allow for open civic spaces and monuments; and different proportions for rectangular blocks created widely varying urban experiences in Philadelphia and Chicago.
The Greatest Grid's curator Hilary Ballon moderates a panel discussion with Gary Hack, Professor and Dean Emeritus, School of Design at the University of Pennsylvania; Joseph Heathcott, Associate Professor of Urban Design at The New School; and Martin Moeller, Senior Vice President and curator at the National Building Museum to explore how the original grid patterns of D.C., Philly and Chicago shaped the growth of these cities and continue to influence their distinct character today.
Presented in conjunction with the exhibition The Greatest Grid: The Master Plan of Manhattan, 1811-2011.
Co-sponsored by The New School for Public Engagement, NYU Robert F. Wagner Graduate School of Public Service, and The New York Public Library.
Thursday, April 5 at 6:30 pm
RESERVATIONS REQUIRED
$12 Non-members
$8 Seniors and Students
$6 Museum Members
Order online at: https://boxoffice.mcny.org/public/show.asp?shcode=321
*A two dollar surcharge applies for unreserved, walk-in participants